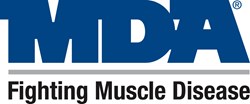 Marshall, Texas (PRWEB) September 24, 2013
More than 40 business and civic leaders from throughout the Marshall area will be "arrested" and put "behind bars" for the Muscular Dystrophy Association's Lock-Up fundraiser on Thursday, Sept. 26 at the Marshall Visual Art Center.
Accused of having big hearts and being heavily armed with kindness, the "jailbirds" volunteered to be part of MDA's Lock-Up in order to raise "bail" by encouraging friends, family, co-workers and business contacts to make contributions to MDA that will directly benefit families in the Ark-La-Tex area living with muscle disease.
"I'm already having fun letting friends know I'm going to be arrested," said Amy Waterstraat of Celebrating Home. "Hearing 'no way!' from friends and then being able to ask them to contribute to the bail I'm raising to help MDA is yielding positive feedback and great donations. Several of my friends have even joked that they'll give extra to MDA just to keep me locked up."
Each MDA jailbird's "bail" is set at $1,600, which will allow him/her to be released for good behavior. The $1,600 goal is significant because it covers the cost to send two local children to MDA summer camp at Camp Aldersgate in Little Rock, Ark., a fully accessible camp that is provided at no cost to families.
MDA also assists jailbirds in creating personalized Lock-Up donation websites to help raise their bail ahead of time online. The links for these websites can be emailed to friends, family and co-workers who could make secure online donations. Visit http://www.mdalockup.org/Marshall to see all participating jailbirds and donate to the cause.
"It's amazing how our community jailbirds have rallied around MDA and are doing a great job as they continue to raise bail donations," said Tiffany Jones, MDA executive director. "The actual day of the Lock-Up at the Visual Art Center will be a fun celebration of the work each person has done to help families who live right here in our community affected by muscle disease."
Families throughout Ark-La-Tex are encouraged to visit the MDA Clinics at LSU Healthcare in Shreveport, St. Francis Medical Center in Monroe, and Children's Hospital in Alexandria.
For more information about MDA's Lock-Up campaign, please contact MDA Executive Director Tiffany Jones at (318) 742-3632 or tijones(at)mdausa(dot)org.
About MDA
The Muscular Dystrophy Association is the world's leading nonprofit health agency dedicated to finding treatments and cures for muscular dystrophy, amyotrophic lateral sclerosis (ALS) and other neuromuscular diseases. It does so by funding worldwide research; by providing comprehensive health care services and support to MDA families nationwide; and by rallying communities to fight back through advocacy, fundraising and local engagement. Visit mda.org and follow us at facebook.com/MDAnational and @MDAnews.