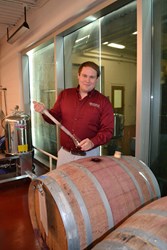 "This event will be a wonderful educational opportunity consisting of lectures and workshops to help wine makers and grape growers increase their knowledge base," said David Bower, Surry Community College Enology Instructor.
Dobson, North Carolina (PRWEB) September 24, 2013
Internationally renowned experts in Viticulture and Enology will be featured during the Second Annual Southeastern United Grape and Wine Symposium to be held Wednesday and Thursday, Nov. 6-7, at the Shelton-Badgett North Carolina Center for Viticulture & Enology on the campus of Surry Community College.
"This event will be a wonderful educational opportunity consisting of lectures and workshops to help wine makers and grape growers increase their knowledge base," said David Bower, SCC Enology Instructor. "Our symposium, educational program and our partnership with VESTA (Viticulture and Enology Science and Technology Alliance) focuses its efforts on a technical education and training experience for those interested in the fields of Viticulture and Enology. Our symposium specifically targets the entire Southeastern United States with hopes of bringing regionally specific technical topics to light for those in our area."
The symposium is being coordinated by SCC and sponsored by VESTA along with media partner, Wines & Vines magazine, the North American wine industry's oldest and largest publication and industry directory, which merged with Practical Winery Vineyard, the publisher of technical journals. VESTA is a partnership of 19 colleges and universities nationwide that deliver groundbreaking distance educational opportunities for the grape and wine industry.
The event will include a Tour of NC Wines Lunch on Wednesday, Nov. 6, featuring 10 wines of the North Carolina's Yadkin Valley along with a Lunch-n-Learn about food and wine pairing on Thursday, Nov. 7.
The Grand Wine Tasting on Wednesday at 5:30 p.m. will highlight wines of the Southeast complemented by light hors d'oeuvres and is open to the public for a non-conference rate of $20. To register for symposium or to see a detailed schedule, go to http://www.surry.edu. The registration cost prior to Oct. 12 is $75 and $100 after deadline.
The two-day symposium will feature a variety of wine experts. Peter Bell, winemaker at Fox Run Vineyards in New York's Finger Lakes, will discuss "Maximizing Quality in Aromatic Whites."
Sabrina Lueck of Walla Walla Community College, Walla Walla, Washington, will present "White Winemaking Critical Points" and a second topic, "The Design and Potential Economic Impact of a Strong College Wine Program" along with SCC Enology Instructor, David Bower. In 2012, David Bower was hired as SCC's winemaker and enology instructor, overseeing the creation and distribution of student-produced wine at SCC's Shelton-Badgett NC Center of Viticulture and Enology, which is labeled Surry Cellars.
Winery consultant Patty Held will elaborate on the "New Rules of Wine Marketing" by discussing the latest digital marketing opportunities for vineyards and wineries. Marketing Professor, Dr. Michele Ambaye of the Pau Business School, will present "Small Wineries in the South West of France Faced with New World Competition" via a video conference.
José Alberto Santos, president of Enartis Vinquiry laboratory, will present the topic, "Done With Harvest, Now What." Michelle Norgren, Director of VESTA National Center of Excellence, will discuss "Uniting the Industry Workforce: Developing Standardized Workplace Competencies for the Grape and Wine Industry."
Surry Community College offers a degree, diploma and a certificate in Viticulture and Enology Technology. Classroom instruction is supported by a teaching vineyard and state-of-the-art, bonded winery where students gain hands-on experience. The Shelton-Badgett NC Center of Viticulture and Enology opened in the Fall of 2010, offering enhanced learning opportunities for students. SCC serves as a source of information and support for the North Carolina grape and wine industry. Additional information about the program may be accessed at http://www.surry.edu/Programs/ViticultureandEnologyTechnology.aspx.