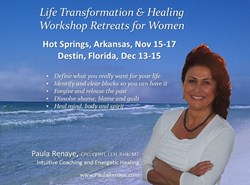 What women really want is to feel authentic and fulfilled by living their purpose and passion
Hot Springs, Arkansas (PRWEB) September 25, 2013
Intuitive coach, healing facilitator, metaphysical teacher and award-winning personal development author Paula Renaye will be conducting life transformation and personal healing workshop retreats for women in Arkansas and Florida. "Destin in December," Renaye's annual three-day program, is set for December 13-15, and this year she is adding a second event, which will be held in Hot Springs, Arkansas, November 15-17.
"We all want to feel better and live happier lives, but sometimes we just don't know where to start," says Renaye, "We do what we think we should even though it's not what we really want and then we resent it, which triggers guilt and shame for feeling resentful--it's crazy!"
Renaye says that what women really want is to feel authentic and fulfilled by living their purpose and passion. "One reason they don't is because they buy into the beliefs and expectations of others." Addressing these issues with guided discovery and clearing techniques is the foundations of Renaye's workshops.
The retreat aspect of the programs is also emphasized and participants will have access to thermal mineral springs or the ocean and beach, depending on location. "We do deep work, clearing and healing on all levels, so taking time for personal reflection and processing is an essential part of the experience," Renaye says. "Connecting with nature, especially water, helps facilitate energetic releases, rejuvenates the mind and body and nourishes the soul."
A certified professional coach, Renaye is also a certified Usui Reiki Master Teacher and is a certified practitioner of Dolores Cannon's Quantum Healing Hypnosis Technique. She developed the Convergent Energy Healing technique and has extensive training and experience in many modalities, including EFT (tapping), past life regressions and Higher Self work, aromatherapy and essential oils, dream work and crystal and stone healing.
Renaye is also internationally known for her award-winning personal development guidebook, Living the Life You Love: The No-Nonsense Guide to Total Transformation. Described as a how-to template for self-discovery, personal insight and life transformation, the book has won four national book awards, is endorsed by therapists and health professionals and is available worldwide in English, Spanish and Chinese.
Although her book is considered mainstream self-help, Renaye has worked in the metaphysical field for decades. She says combining coaching with intuitive and metaphysical modalities has accelerated and amplified results for her clients. "Working on several levels at once can simultaneously facilitate deep insights, emotional releases, spiritual awakening and self-healing."
Like many three-day events, Renaye's begin Friday afternoon and end Sunday at noon. Unlike most, however, hers limits participation to only five women. "Addressing each woman's specific situation is the key to healing it effectively," she says. "So I've designed these workshops to allow as much one-on-one coaching time as possible."
"Spa City in November" will be held November 15-17 in Hot Springs, Arkansas, known for its massive quartz crystal deposits as well as its healing thermal waters "Destin in December" will be held December 13-15 on Florida's Emerald Coast.
"The shifts and self-healing that can occur during a weekend event are nothing short of amazing," says Renaye. "It can truly be life changing."
ABOUT
Paula Renaye is a Certified Professional Coach, intuitive healing facilitator, certified regression hypnosis practitioner and nine-time award-winning author of Living the Life You Love: The No-Nonsense Guide to Total Transformation. She teaches classes and workshops and works with clients worldwide. For more information, visit http://www.PaulaRenaye.com
Submitted by Jami Jones, Publicity and Events Director for Diomo Books, publisher of Living the Life You Love by Paula Renaye.