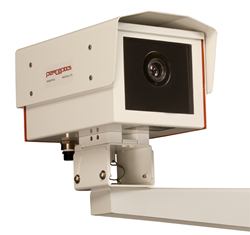 These technologies integrated with weigh-in-motion scales, empowers states to screen more commercial vehicle traffic.
Knoxville, TN (PRWEB) September 30, 2013
Perceptics, working with IRD (International Road Dynamics), a Saskatoon based provider of commercial vehicle weight enforcement technologies, announced today the purchase of mainline and ramp USDOT Number Reader and License Plate Recognition systems by the Oklahoma State DOT. This marks the first time USDOT Number Readers paired with License Plate Recognition technology will be installed on the mainline for commercial vehicle pre-sorting and screening purposes. Data captured from the mainline systems will be used to check registration and motor carrier service records.
Perceptics' new USDOT Number Reader system is able to capture vital U.S. DOT number, KYU and Motor Carrier number data with 85% accuracy at highway speeds for mainline screening or virtual weigh station applications. In response to the limited display standards required by motor carriers, the system is designed to capture hard-to-read, scripted, or low contrasting DOT Numbers.
"Screening at a weigh station can be difficult and time consuming for enforcement officials," says Paul Bazzano, Perceptics' VP of Sales and Marketing. "The development of high-speed DOT Reader systems able to perform data capture at highway speeds was in response to a growing need by state DOT officials to move safety screening measures beyond the ramp to the mainline," Bazzano continued. A contact with the weigh scale manufacturer noted that these technologies integrated with their weigh-in-motion scales, empowers states to screen more commercial vehicle traffic.
Systems are slated to be installed along the I-35 route starting in August 2013.
About Perceptics:
For over 30-years, Perceptics License Plate Readers have been accurately reading plates and state identification on all plate types, any time, day or night. Their LPR, DOT Number Readers and Under Vehicle Inspection systems have been deployed in thousands of lanes worldwide, including the United States, Canada, Mexico, United Arab Emirates, Saudi Arabia, Malaysia, and Singapore.