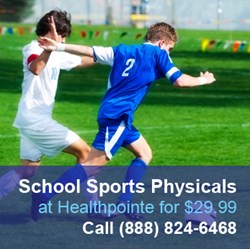 Sports Physicals for $29.99
Los Angeles, California (PRWEB) September 25, 2013
As your children are heading back to school this fall season, it is important to remember that a school sports physical may be required for student athletes who want to participate in middle and high school sports. Sports physicals are important as they determine if an athlete is healthy enough to participate in the sports and to help minimize the risk of sports-related injuries.
School sports physicals by Healthpointe is a subsidiary of Healthpointe Urgent Care. There are two components of the school sports physical, which includes a review of the athlete's medical history and the physical examination. Some issues addressed during the review of medical history can include history of chronic conditions such as asthma, family history of serious illness, and allergies. During the physical examination, the focus may include an evaluation of lungs function, height and weight, blood pressure, vision, heart function, and abdomen. You can request an appointment simply by calling us today at (888) 824-6468. We are open Monday through Friday from 8:00 a.m. to 5:30 p.m.
In addition to school sports physicals, Healthpointe Urgent Care also offers other physicals including Immigration Exams, DOT Physicals, Executive Physicals, and Annual Physicals. Healthpointe offers unparalleled benefits and premium quality services for anyone looking to receive physicals, which includes minimal wait times, convenient locations, affordable cost, highly qualified and experienced staff, and state-of-the-art medical equipment.
About Healthpointe Urgent Care
Based in La Mirada, California, Healthpointe Urgent Care offers the convenience of 10 locations in the Southern California region to better serve our clients. In addition to treating a multitude of medical problems on a walk-in basis at our urgent care locations, we also offer physical examinations required by various authorities such as School Sports Physicals, Immigration Examinations, FAA Pilot Physical, Executive Physicals and DOT Physicals.