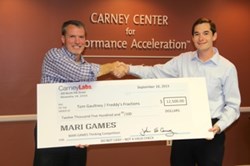 Arlington, VA (PRWEB) September 26, 2013
Website Math Chimp, known for its extensive collection of online math games, won first place at the 2013 Mari Games competition for developing Freddy's Fractions, its first original game.
The contest, which was sponsored by Carney Labs, Carnegie Mellon's LearnLab, New York University's Games for Learning Institute and George Mason University's Game Design, was focused on the data behind math games, an emerging part of the education field. The competition required that applicants gather player performance data and provide insights on 35 player skills.
The prize purse of $50,000 demonstrates the growing commitment of private industry and large universities alike to investing in big data for education.
Math Chimp's winning game marks its first foray into game development -- a natural next step for a website that since 2010 has been helping teachers, parents and students find the best math games and activities online, organized by the Common Core State Standards.
"We were thrilled to be selected," said Tom Gaultney, Math Chimp's founder. "Competitions like this draw more developers to educational games and, consequently, improve the overall quality of games and apps. That's good for students, teachers and parents."
Freddy's Fractions, targeted at students in grades three through five, features a loveable turtle that students steer through an underwater world, collecting fractions while avoiding dangerous submarines.
The game, which won a $12,500 prize for its first place finish, is available to play free online and on Android mobile phones. An iOS App is coming soon:

For more information, contact Math Chimp at info(at)mathchimp(dot)com or by phone at 703-344-8594.