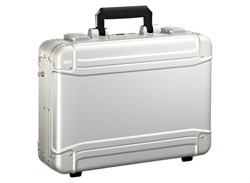 Zero Halliburton Geo Aluminum Small Computer Case opens a new chapter in the storied history of business travel apparel.
Los Angeles, CA (PRWEB) September 26, 2013
With the introduction of the Zero Halliburton Geo Aluminum Small Computer Case: substantial aluminum briefcases collection, Gotbriefcases.com opens a new chapter in the storied history of business travel apparel.
The Zero Haliburton Geo is a marked improvement over its predecessors because a brand new manufacturing process is deployed. This process, known by the pedestrian term, "bending and folding" actually makes this new generation of Zero Halliburton aluminum briefcases one of the sturdiest and most protective to date.
But the benefits of this carrier are not just about what is new. "It's also about Halliburton craftsmanship and design," says Gotbriefcases.com founder and CEO Vahram Tovmasyan. "The Halliburton imprimatur is more than just a brand; it is an indicator of the superior quality and workmanship that business travelers can expect from these sturdy carriers."
Halliburton has been providing this kind of superior quality to its business travelers for three quarters of a century now and has perfected its aluminum briefcases to suit the needs of the international business traveler in the process. These cases not only provide the most protective of shells—having been forged in heats of 1000 degrees and deep drawn in pressures exceeding 400 tons—but they also incorporate the smart technologies that are all about finesse and intelligent design (such as the combination locks and custom manufacturing of every piece from fasteners to grip).
"Put simply," says Tovmasyan. "Halliburton knows the needs of the rugged business traveler like no other company. These cases were designed by and for hard-nosed business men who know how to cut deals and break new ground. That's why they are top of the line—because they have to be."
And with this kind of 21st Century case at the vanguard of their new fleet of aluminum briefcases, Halliburton is likely to remain in the forefront of this market for another three quarters of a century.
GotBriefcases.com is an up and coming online provider of fine luggage and work cases. Geared to the tastes and needs of the 21st Century traveler and business person, GotBriefcases.com's wide array of briefcases, laptop bags, travel cases, and messenger bags are perfect for the modern consumer regardless of price point or stylistic needs. At GotBriefcases.com costumers find the best briefcase designers and the highest quality bags. Put simply, GotBriefcases.com is the destination for briefcase or carry-ons. When it comes to finding the right case, GotBriefcases.com has it in the bag.
Those who would like to find out more about these cutting edge aluminum briefcases may visit the GotBriefcases website here: http://www.gotbriefcases.com.