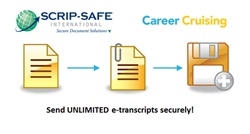 "It's a huge win for our community of high schools and their students. Applying to college in the U.S. is an incredibly complex process so anything we can do to lessen that burden will make a big difference to high school students across the country."
Toronto, Ontario (PRWEB) September 25, 2013
Career Cruising and SCRIP-SAFE International announce a new partnership designed to streamline the process for students applying to college. Now students can send electronic transcripts directly through Career Cruising using SCRIP-SAFE's secure delivery network, eSCRIP-SAFE, to any college or university worldwide.
"Partnering with Career Cruising is an easy decision," says Joe Orndorff, SCRIP-SAFE International's President and CEO. "They are a company much like ours and their commitment to providing services to high school students is exceptional."
This joint endeavor greatly enhances Career Cruising's ultimate college application tool, cAchieve, by providing students with the opportunity to send electronic transcripts through eSCRIP-SAFE's secure and reputable delivery network.
"It's a huge win for our community of high schools and their students. Applying to college in the U.S. is an incredibly complex process so anything we can do to lessen that burden will make a big difference to high school students across the country," says Career Cruising CEO, Matt McQuillen. "Working with a company that had an established and secure delivery network was important to us so we are really excited to make this happen with SCRIP-SAFE."
SCRIP-SAFE International is trusted by over 2,000 college and universities, and hundreds of thousands of high school and college students and alumni to deliver millions of transcripts and other education credentials each year. Founded in 1989, the company has 23 years of experience combating academic transcript fraud. For more information about SCRIP-SAFE International, visit http://www.scrip-safe.com.
Career Cruising provides secure, online career guidance tools to nearly 20,000 schools, career centers and libraries across North America. Founded in 1997, Career Cruising streamlines career-exploration and education-planning for students, counselors and educators with age-appropriate resources. For more information about Career Cruising, visit http://www.careercruising.com or call us at 800.965.8541.