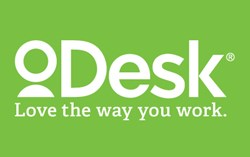 Smart companies are innovating their teams and creating flexible benches of contractors in order to get more done. - Matt Cooper, Vice President of Enterprise at oDesk.
Redwood City, CA (PRWEB) September 24, 2013
oDesk®, the world's largest online workplace, today announced the launch of oDesk Private Workplace, a revolutionary way for businesses to bring their contingent workers online. As businesses turn towards flexible teams, they are experiencing challenges in managing distributed members. The new oDesk Private Workplace brings these teams together via the Internet, saving time and money and eliminating the hassles associated with remote management, global payments and team collaboration.
"Smart companies are innovating their teams and creating flexible benches of contractors in order to get more done," said Matt Cooper, Vice President of Enterprise at oDesk. "As businesses build these contingent teams, however, they're realizing that having people widely distributed and working remotely can be challenging -- requiring manual time cards, data entry, and painful disparate payment methods for example. oDesk Private Workplace erases these pain points by bringing these teams together online."
oDesk Private Workplace offers businesses:
-A private online workplace, in which freelancers are brought together in the cloud
-An at-a-glance picture of the company's team, so that management can rapidly identify
available skills and effectively tap into their talent
-Robust reporting on staffing utilization, costs and activities for their contingent team (by
individuals and overall)
-Eliminated paperwork in order to act faster and be responsive to project needs
-More accurate billing leading to lower staffing costs
Pre-launch results show oDesk Private Workplace delivers a 20% cost reduction
oDesk Private Workplace was in use by select businesses prior to official launch, and resulted in proven efficiencies that delivered a more than 20% reduction in team costs: "We saw an immediate cost savings with oDesk. Just switching from traditional time sheets to automated tracking, average hours across our team fell from 40 hours per week to 32 overnight," said Andy Montgomery of Trilogy Software. "We've moved hundreds of contractors onto oDesk, and we see big savings every time."
"oDesk takes care of the administrative burden," said Colleen Sollars of Couchsurfing. "I used to spend tedious hours every week approving time sheets and making payments. oDesk takes care of all this, so I can focus on growing our business."
Features of oDesk Private Workplace:
SIMPLIFIES TEAM MANAGEMENT
-oDesk sets up the virtual team room for the business, and supports sub-teams so that various
hiring managers have control over their own virtual offices.
AUTOMATES BILLING AND PAYMENT
-Robust reporting tracks hours worked and dollars spent down to the task level.
-Software tracks hours as work is performed, with no need to manually enter time into online or
paper-based timesheets.
-The worker has complete control over what work hours are shown, but businesses only pay for
the work they can see.
CUSTOMIZES AND INTEGRATES TO MEET EACH BUSINESS' NEEDS
-The oDesk Enterprise Solutions team provides strategic consultation to help businesses make
the most of their online teams, including how best to scale.
-oDesk Recruiting Services is packaged with oDesk Private Workplace and provides support in
finding, screening, and hiring freelance talent.
-oDesk APIs extend the oDesk platform beyond core use cases, to integrate with third party
systems used for processes including project management, collaboration, payment and ERP.
-oDesk Private Workplace can also be enhanced with custom applications, such as task
management systems that support unique workflows.
About oDesk
oDesk (http://www.oDesk.com) is the world's largest online workplace, enabling businesses and freelancers to work together on-demand via the Internet.
By using technology to remove the barriers of traditional hiring, oDesk's platform aligns businesses' talent needs with freelancers' desire to work when and where they want, on projects of their choosing. More than $1 billion in work has already been completed on oDesk, and 35 million hours worked via our online workplace in 2012 alone.
oDesk is a registered trademark of oDesk Corporation. Other trademarks are the property of their respective owners.
Contact:
oDesk
Amy Partridge, Communications Manager
650-853-4180
press(at)odesk(dot)com