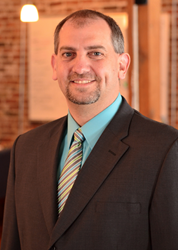 KANSAS CITY, MO. (PRWEB) September 25, 2013
Engage Mobile's founder and CEO Darrin Clawson got a new "high" this week. He's fired up about HEMP – and we're not talking plant substances.
Clawson is one of 10 small business leaders in Kansas City chosen as part of the Helzberg Entrepreneurial Mentoring Program (HEMP) for 2013. This elite group, which has helped more than 200 entrepreneurs over the past 18 years, is comprised of some of the Midwest's top forward-thinking business leaders.
"It is exciting – an incredible honor," Clawson says of being chosen. "I've known five or six other business owners who have been through the (HEMP) program, and every one said, 'it will change your life' and 'it will make you a better businessperson'."
While many organizations offer mentoring opportunities, HEMP specifically focuses on entrepreneurs of small business who have already demonstrated an unparalleled business savvy by surviving the "start-up" phase of business. (For instance, their company must have already met the $1 million revenue mark to be eligible for HEMP.) "It's kind of a recognition that making your first million is not the hard part, it's how to evolve from being a small business to a business of significance," Clawson says. "People who have made that transition then help younger people make that transition."
One of the values Clawson sees in HEMP is the network of professionals who are available to aid in guiding him as he moves his business forward. While he's assigned one person as a mentor, mentees have access to the whole network of businesspeople who belong to HEMP. "It's a strong community, and you get the value of all of them," he says.
Clawson has been at the helm of Engage Mobile, the Kansas City-based mobile strategy, mobile development and mobile marketing company, since 2010, and his mobile expertise spans more than a dozen years. "Engage is absolutely on fire," Clawson says, noting that revenue tripled each year he's been in business. "A big part of the reason we're growing is not just technology but our specific business strategy," he says.
Engage Mobile believes in finding out what clients want first and prides itself on developing solutions that best fit the customer. Lots of mobile companies operate strictly on Apple/iOS or Android platforms and they market programs specific to those skills, Clawson notes. At Engage Mobile, the team first identifies a need, and then determines the optimal technology and approach to meet the client's need. So many companies operate the other way around, he says.
"It's a very different way of doing business," Clawson admits. And that's exactly why he's looking to HEMP to help him move forward.
Clawson's approach is clearly working. The company has a 100% positive referral rate – each and every client of Engage Mobile is willing to serve as a reference for future customers – and that is extremely important to him. "We are highly transparent, committed, honest, and you can trust us. At the end of the day, people don't expect perfection but they do expect you to be clear and honest."
The HEMP program is similarly built on trust and honesty. Part of sharing information with the group includes "putting your worst foot forward," Clawson says. "(The HEMP program) is a super-tight circle of trust. You don't have to be a super-successful businessperson all the time … you can step out and say 'here's what I don't understand' or 'here's what I need help with.'" In fact, the group encourages entrepreneurs to discuss their weaknesses in an effort to turn them into strengths, he says. The program requires a three-year commitment in an effort to build long-term relationships and to provide time to really delve into the details of business.
"The HEMP class of 2013 is comprised of some of Kansas City's finest entrepreneurs," says Barnett Helzberg Jr., founder and former president of Helzberg Diamonds. Helzberg founded the organization nearly two decades ago after benefiting from a 23-year mentoring relationship with Ewing Kauffman. "I feel very fortunate to have been mentored throughout the various phases of my business career, and HEMP is one way for many of us to give back to the entrepreneurial community."
###
Engage Mobile Solutions builds apps and software for smartphones, tablets and other mobile and desktop devices. Their apps and software are custom designed for companies and focus on solving business problems that move the needle for clients. The company also works with clients to develop an overall mobile strategy and develop and execute mobile marketing plans. For more information about Engage Mobile Solutions visit http://www.engagemobile.com or contact Matthew Barksdale at mbarksdale(at)engagemobile(dot)com.