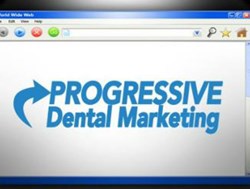 Dunedin, FL (PRWEB) September 24, 2013
Progressive Dental Marketing officially offers the concept of Full-Circle Marketing. The company implements their new concept by combining professional staff training, tracking results, and complimentary consulting into their custom dental marketing programs. This marketing approach has proven to be effective because of the collaborative environment produced. Both the office and the marketing program are held accountable for production, as both sides are able to measure success.
The enhanced personal interaction with dental offices ensures that clients marketing with PDM know their return on investment and can identify any potential drawbacks well in advance. Before any marketing efforts begin, each client and their dental staff receive a series of introductory training sessions including phone training and treatment planning training. After the marketing commences, additional training sessions are available where deemed necessary, as live patient calls are dissected and categorized in order to consistently evaluate performance.
Every custom marketing solution is created based on the needs of the practice and the type of cases the clinician wants to attract. PDM will track all marketing campaigns independently of each other by using local, remote call forwarding numbers that are tracked, recorded, and not found anywhere else except that specific media. The PDM team listens and critiques every call to offers tips and suggestions for the client's staff. This helps the staff improve their conversion with callers and potential patients, and tracks how many new patients are coming from the dental marketing campaign every day. Recording also builds a culture of accountability to ensure consistent improvement.
Dental professionals no longer have to hire three or four marketing firms to realize a well-rounded advertising program. With PDM, they can have all marketing avenues at their fingertips including staff training and consulting, tracking results, TV, radio, direct mail, and physician referrals to name a few.
Dental professionals interested in experiencing a Full-Circle Marketing approach for their dental office should visit http://www.progressivedentalmarketing.com today or call to schedule a complimentary marketing evaluation at (727) 286-6211.
About the Company
Progressive Dental Marketing has "changed the game" in regards to marketing for high dollar surgical cases by implementing a Full-Circle Marketing™ approach. PDM is a leading dental marketing company for attracting targeted, high dollar patients through online marketing, seminars, direct mail, TV, radio and referral programs. PDM is the only marketing firm that mandates its clients to participate in phone and treatment planning training before the marketing commences. The majority of clients obtain a fantastic ROI and staff members are ready to handle the increase in new patient calls and activity. PDM maintains a 97 percent client retention rate, which is leading by a large margin among dental marketing companies! PDM is based out of Dunedin, FL and always offers a complimentary initial marketing evaluation. The staff includes dedicated account managers and consultants who are available to answer any and all questions. To learn more about PDM, visit their website at http://www.progressivedentalmarketing.com and call (727) 286-6211.