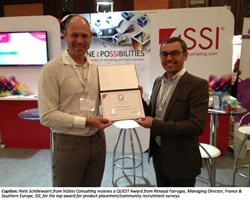 Istanbul (PRWEB) September 25, 2013
ELQ Research, GfK Romania and Sinomonitor Intl. won the SSI QUEST Award for top regional honors for their excellence in survey design at the 66th ESOMAR Congress. Top awards for product placement/ community recruitment surveys went to InSites Consulting for a study in the Americas, Feedback Consumer Research in Europe and Inside Story from Asia-Pacific. The highest honor, the 2013 Best in QUEST Award, went to ELQ Research for creating the most engaging research experience.
As more respondents choose to give their opinions on mobile devices, a new category – "best mobile survey experience" – was added this year to highlight the importance of having a well-designed mobile questionnaire. The first SSI QUEST mobile winner was Wilke from Denmark for a wave study based in China.
SSI introduced the QUEST Awards (QUestionnaire Experience Satisfaction Tool) in 2010 to support the industry's continuing quest to improve respondents' survey experience and encourage creativity in developing surveys that delight participants. Self-reported satisfaction scores from respondents are the key factor in determining the winning projects; winners are also judged on drop rate and actual time to complete the questionnaire.
Every year, the awards have been given at the ESOMAR Annual Congress. SSI's Vice President for Sales Operations – Europe Sylvain Rouri announced the winners on the opening day of this year's Congress. Winning companies received a customized SSI QUEST Award trophy and SSI will present certificates of excellence to the teams responsible for developing winning surveys.
"The quality of the experience the industry gives its participants is sometimes overlooked in the discussions about quality research," said Rouri. "But to produce methodologically sound samples, our industry needs a large pool of willing participants. Researchers must give participants a good survey-taking experience, or they risk losing them. This year's SSI QUEST Award winners clearly demonstrate their commitment to high-quality research results."