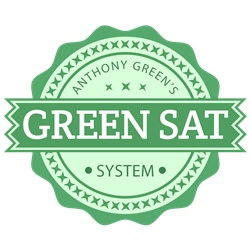 We're trying to make this program as great as we possibly can - this is something users have been clamoring for, so we wanted to make the change immediately.
New York, New York (PRWEB) September 25, 2013
The Green SAT System, a popular new online SAT prep software, has just added another weapon to its already burgeoning arsenal of SAT prep tools. At the request of their users, the founders of the Green SAT System are now adding Vivid Vocab directly into the program. Vivid Vocab, an online, interactive SAT vocabulary program, has received accolades from students and educators alike, and has thousands of users around the globe. Now, buyers of the Green SAT System will have the software built directly into their learning dashboard.
The Green SAT System has been making waves in the test prep community. With an average student score improvement of over 385 points, the program has been remarkably effective in raising student scores. At a price point of only $297, the program is also undercutting the market, costing thousands less than most SAT classroom courses and one-on-one tutors. Yet the makers of the program are far from complacent.
"This market is insanely competitive," says Anthony-James Green, renowned SAT tutor and creator of the Green SAT System. "There are so many players in this space, and if you're not constantly improving, you're going to get outdone. We've been obsessed with collecting feedback from our students in an attempt to improve the program and the user experience. Fortunately, they've been very responsive, which allows us to figure out how to improve their actual experience using the experience, and, most importantly, the results that they get from using it. After multiple requests for a more robust vocabulary tool, adding Vivid Vocab into the software was an obvious decision."
Vivid Vocab is an online vocabulary program which uses mnemonic devices and interactive experiences to help students memorize the most common SAT vocabulary words. Rather than using a simple flashcard system, Vivid Vocab provides students with vivid images, rhymes, stories, professionally recorded audio, and multiple usage examples to help them more permanently retain verbal definitions. The software has thousands of users across the globe, but was formerly a standalone product. Now, anyone with a Green SAT System account can access the software directly from their dashboard.
"We promise our students an all-in-one experience," says Green. "We need to provide them with everything, and I do mean everything, that they need in order to succeed on this test. We already provide the best textbooks, strategies, lesson plans, and diagnostic testing, but this particular element was the missing link. We can't say we have an "all-in-one" solution, then ask our users to go to a different website. Building the software in has been difficult, but I'm extremely thrilled with the new experience we'll be offering to our students."
Parents and students interested in learning more about the Green SAT Prep System can do so via the following URL: http://www.GreenSATsystem.com.
Those interested in learning more about Vivid Vocab can also do so via the following URL: http://www.VividVocab.com.
Developed over the course of more than 10,000 hours of hands-on experience with the SAT, the Green SAT System uses a unique approach to help its students excel. Unlike most programs, which simply provide practice problems and answer explanations, the system forces students to become their own teachers, gaining a deep understanding of their own strengths and weaknesses. Once they've catalogued their own level of understanding, the system provides them with time-tested strategies and tactics to amplify their performance.
The Green SAT System comes with two programs - a 30-day program for students who need last-minute prep, and a 60-day program for students with more time to study. Both programs run on the student's own schedule, can be accessed from any internet-connected device, and come with all the materials necessary to complete the program. The Green SAT System also comes with a 21-day, no-questions-asked guarantee: if users aren't satisfied with the program for any reason, they have 21 days from the time of purchase to request a refund, simply by sending an email.
Anthony-James Green is known as New York's Best SAT Tutor. He currently lives between New York and Los Angeles, where he tutors full time when not working on his software program.