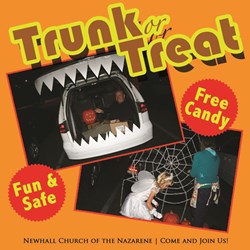 'We find that the children and their parents who attend don't have to worry about safety issues. But it's not all about the kids; Trunk or Treat gives the older folks a place to celebrate, too!' - Kathy Cannon, Family Life Pastor
Los Angeles, CA (PRWEB) September 25, 2013
Church leaders across the nation embrace Halloween as an excellent opportunity to promote youth ministry programs through family friendly events. While the faithful often consider Halloween a negative influence on impressionable children, many churches are now using the holiday for alternative outreach. From Christian themed fall festivals to carnivals and Trunk or Treat parties, religious organizers are using a combination of online advertising and print marketing to spread the message to local communities. The most effective formulas rely heavily on direct mail campaigns coupled with web word of mouth powered by a strong social media presence.
Newhall Church of the Nazarene in Newhall, CA sees its annual Trunk or Treat as a safe place for kids as well as an enjoyable event for older people. Family Life Pastor Kathleen Cannon explains why people of all ages love the festivities: "We find that the children and their parents who attend don't have to worry about safety issues like crossing the street in the dark. We see lots of kids attend in groups because their moms and dads know they won't get lost, which makes everything more exciting for the little ones. But it's not all about the kids; Trunk or Treat gives the older folks a place to celebrate with an enthusiastic crowd instead of sitting at home hoping for a few scarce trick or treaters."
These successful event marketing campaigns usually start online with announcements on the church website, Facebook page, email blasts, and a press release. The digital channels work well in building excitement within the congregation, but printed pieces target surrounding neighborhoods filled with new potential members. Cheap postcards are the mailer of choice, although those with larger budgets spring for brochures. The postcard designs let parents know their kids will be able to have a good time on the big night in a safe, supportive environment with people who share their values. Custom greeting cards offer a more personal touch better suited for a small town setting, but these invitations are not eligible for low bulk mailing service rates.
Of course, face to face witnessing offers additional opportunities to make a powerful impact. Youth groups and young adults do their part to help the ministry by canvassing door to door on foot in nearby residential areas. Homes and apartment buildings with spooky decorations on the front yard or toys on the porch are the perfect places to start. The week before Halloween, volunteers grab a batch of full color flyers or door hangers advertising the event, and hit the streets for in person invites. The flyer design should include details about any food and refreshments available besides sweet treats. Families in need always appreciate free meals; breaking bread together with visitors makes them feel welcome and provides more chances to introduce the Gospel. It never hurts to bring along some free candy for the kids or pocket Bibles for the grown-ups when hand delivering advertising flyers. Even lollipops can send a Christian message; print favorite Bible verses on labels and attach them to the lollipop sticks or on top of the candy wrappers.
The direct approach does have certain disadvantages in terms of time and labor. Canvassing works on the individual level while other tools reach a wider audience. Signage is an inexpensive solution to let passersbys know about the event. Church banners with a Halloween theme fit in with the rest of the seasonal decorations and will attract kids' attention immediately. If there's no place to hang a big vinyl banner, yard signs are another way to advertise on the church lawn, on a wall, or in a window facing the street. Business signs are reuseable as long as the design does not mention specific dates. Poster prints serve the same purpose, and they can be placed around town in addition to the actual event location. Any extra posters can be given out to the attendees as keepsake items to help them remember their happy Christ-centered holiday.
About PrintFirm.com
Printfirm, Inc., trusted leaders in online printing, mailing, and design since 1996.