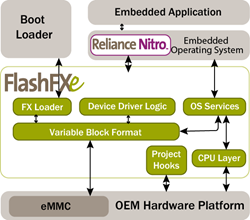 The flash-aware allocation in FlashFXe makes write amplification a virtual non-issue, and allows OEMs to achieve a dollars-per-IOP ratio previously out of reach with their existing hardware.
Bothell, WA (PRWEB) September 26, 2013
Today Datalight released FlashFXe™, a software accelerator for eMMC for use with Reliance Nitro on Linux and Android, which dramatically reduces write amplification, a key shortcoming of solid-state storage. The new software improves random write speeds by as much as 50%, resulting in an improvement in database operations with no loss of reliability. In addition, the more efficient writing profile puts 40% less wear on the flash parts, extending their lifetime and consuming less than half the energy to accomplish the same tasks.
FlashFXe is the latest in the FlashFX® family of flash memory management tools that have been the top choice for data-critical applications from leading OEMs for decades. Building upon years of flash management expertise, Datalight offers software and services to leverage the strengths while mitigating the shortcomings of this dominant storage technology for embedded devices.
"Storage performance on mobile devices is not keeping pace with the performance of 4G and wireless networks, and is becoming the significant bottleneck in user experience," said Ken Whitaker, Datalight VP of Engineering. "The new technology featured in FlashFXe is a game-changer for solid-state flash storage."
"Write amplification is the Achilles' heel of solid state storage, exhausting performance, battery life and flash endurance," said Datalight CEO Roy Sherrill. "The flash-aware allocation in FlashFXe makes write amplification a virtual non-issue, and allows OEMs to achieve a dollars-per-IOP ratio previously out of reach with their existing hardware."
FlashFXe integrates seamlessly with Reliance Nitro fault-tolerant file system to comprise a bullet-proof solution for eMMC, making it a smart choice for applications where data reliability, product endurance and battery life matter. Reliance Nitro was designed from the ground up for high performance applications. Dynamic Transaction Point™ technology provides immunity from file corruption, even after unexpected system interruption. The combined products have passed extensive reliability testing, including more than 2 million random power cycle tests without a failure. Embedded applications can also benefit from faster boot times that remain consistent for the life of the product, regardless of disk size.
Datalight flash file system products are also available on Wind RIver VxWorks, Microsoft Windows Embedded Compact, and Mentor Graphics Nucleus. Customers have migrated the portable products to many other operating systems.
FlashFXe and Reliance Nitro ship in ANSI C source code and include a robust set of developer tools and complete documentation. Technical support from Datalight's highly-respected support team is available via phone and email. Runtime distribution can be licensed per unit or per project.
About Datalight
Datalight, Inc. headquartered just north of Seattle, Wash., develops technologies to enable risk-free mobile data. Datalight software helps leading OEMs build high-performance, reliable devices that get to market quickly. Our product line includes Reliance Nitro, a transactional power failsafe file system; FlashFXe software acceleration for managed flash and FlashFX Tera comprehensive software management for raw flash. Expert engineering consultation and services speed time to market for device manufacturers. When data integrity, time to market and design flexibility matter, the world's leading device manufacturers invest in solutions from Datalight. Datalight products have shipped in millions of embedded devices in demanding product categories like automotive, medical, retail, industrial automation and military/aerospace.
For more information, visit our website at http://www.datalight.com or call 800.221.6630.
###
DATALIGHT, Datalight, the Datalight Logo, FlashFX, FlashFX Tera, Reliance Nitro, ROM-DOS, One-Boot, One-Boot+File, and Sockets are trademarks or registered trademarks of Datalight, Inc. All other product names are trademarks of their respective holders. Specification and price change privileges reserved.