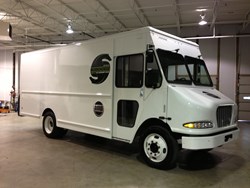 AMP is unique in that it can build new Workhorse chassis in its Union City, IN assembly plant with battery electric power, and an array of fuel options including gasoline, propane, and CNG
Cincinnati, OH (PRWEB) September 25, 2013
AMP Holding, Inc. (OTCBB and OTCQB: AMPD) announced today that its Workhorse subsidiary is a Silver Sponsor at the upcoming HTUF (High Efficiency Truck User Forum in Chicago, IL on October 7-9. The HTUF event is significant as it represents the process for making change happen in the high efficiency truck and bus arena.
In addition to its key role as an HTUF sponsor, the company will have its all-electric Workhorse medium-duty step van available for participants in the Ride and Drive program. This event marks the first time in public that prospective customers will have the opportunity to see, and ride, in the Workhorse E-100 All-Electric Walk-In van. Powered by a dual-Remy (NASDAQ:REMY) motor drive train with energy supplied by a 100 KwH battery pack, the Workhorse E-100 has a range of 80 to 100 miles on a charge.
Jay Pittas, President and CEO of Remy International said, "Remy is proud to be partnered with Workhorse as their long term supplier of electric traction motors for commercially viable applications such as the E-100 van. Our electric motors and their technology are a perfect match in this growing industry."
AMP is unique in that it can build new Workhorse chassis in its Union City, IN assembly plant with battery electric power as well as offering an array of fuel options including gasoline, propane, and CNG through its strategic relationship with Power Solutions International, Inc. (NASDAQ: PSIX). Workhorse Custom Chassis produces some of the best strip chassis available in the route delivery and step van industry.
AMP can also convert existing vehicles to all-electric power through its EpowEr™ program wherein existing trucks get new life through the replacement of ICE (Internal Combustion Engine) components with AMP's all electric drive train. Converting existing ICE-powered vehicles to all-electric is one of the most cost-effective options available to fleet managers today who are seeking to deploy all-electric trucks in their fleets.
The Workhorse E-100 All-Electric Walk-In van is approved for incentive funding through the NYSERDA program in New York State and the HVIP program in California. These incentive programs make the cost of a Workhorse all-electric truck on par with traditional diesel trucks, thereby offering great savings on fuel for the life of the truck.
Steve Burns, CEO of Workhorse, will speak on the "Zero Emission Truck and Bus Breakthrough" panel at the conference.
About AMP Holding Inc.
AMP Holding, Inc. is the parent company of AMP Electric Vehicles Inc. and AMP Trucks, Inc. Amp Electric Vehicles is a manufacturer of electric drive systems for medium-duty class 3-6 commercial truck platforms. Entrepreneurs who have created several hi-tech companies founded it in 2007. AMP's team is comprised of top automotive industry veterans and business executives. AMP has been focused on the electrification of fleet vehicles, including medium-duty class 3-6 trucks and vans. AMP Holding, Inc. also owns AMP Trucks, Inc. a manufacturer of Workhorse brand commercial chassis. For additional information visit http://www.ampelectricvehicles.com
Forward-Looking Statements
Certain statements contained in this press release may constitute "forward-looking statements". Forward-looking statements provide current expectations of future events based on certain assumptions and include any statement that does not directly relate to any historical or current fact. Actual results may differ materially from those indicated by such forward-looking statements as a result of various important factors as disclosed in our filings with the Securities and Exchange Commission located at their website (http://www.sec.gov). In addition to these factors, actual future performance, outcomes, and results may differ materially because of more general factors including (without limitation) general industry and market conditions and growth rates, economic conditions, and governmental and public policy changes. The forward-looking statements included in this press release represent the Company's views as of the date of this press release and these views could change. However, while the Company may elect to update these forward-looking statements at some point in the future, the Company specifically disclaims any obligation to do so. These forward-looking statements should not be relied upon as representing the Company's views as of any date subsequent to the date of the press release.
Contact:
AMP Holding, Inc.
AMP Electric Vehicles
Workhorse Trucks
Daniel Zito
dan(dot)zito(at)ampelectricvehicles(dot)com
513-300-5910