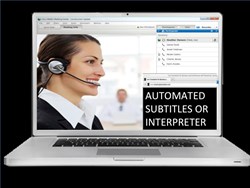 Global software for across-language talking expected to become the norm worldwide in 2 years.
Atlanta, USA and Uppsala, Sweden (PRWEB) September 26, 2013
Translate Your World, developers of the speech translation software that converts speech into real-time subtitles in other languages, and ReadSpeaker, a leader in text-to-speech technology, today jointly announce collaboration to create the first global voice translation system for business that instantly converts what people say into and out of 23 spoken languages in real-time.
This joint effort between Translate Your World and ReadSpeaker changes the landscape of business communications across languages including web conferencing, meetings, Skype conversations, laptop/mobile talk-texting, conferences, webinars, and hospitality. People using Skype or web applications can now have a cross-language conversation, each speaking in a different language. One-to-many events like webinars, training, and conferences stream in 23 languages. Hotels, airports, and tourist attractions have language support for their visitors.
By combining the voice-to-subtitles system of Translate Your World with the subtitles-to-voice capabilities of ReadSpeaker, users can choose to read subtitles or speak, be heard, and be understood in the following languages: Spanish, French, Arabic, Mandarin Chinese, Cantonese, Brazilian Portuguese, Russian, Catalan, Czech, German, English, Basque, Finnish, Galician, Italian, Japanese, Korean, Dutch, Norwegian, Polish, Romanian, Swedish, and Turkish. For languages not covered by the 23 collaborative languages, a voice-to-subtitles option and a text tool are provided, bringing communication up to 78 languages.
The combined result is communication across languages where there was no communication in the past. This collaboration marks the first truly global cross-language voice translation software for business use and this approach is expected to become the norm worldwide over the next 2 years.
For more information or to request a demo in 78 languages, go TranslateYourWorld.com.
About the Companies
Translate Your World (http://www.TranslateYourWorld.com) develops numerous online web software that function in dozens of languages with speech and text. ReadSpeaker (http://www.readspeaker.com) is the leading online text-to-speech provider used on web sites and mobile apps worldwide for visitors to listen to the text content on the fly without the need to download any software.