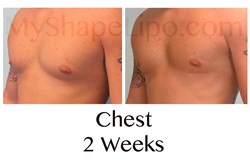 My chest is like a man's chest should be. It's just amazing.
Las Vegas, NV (PRWEB) September 26, 2013
Male breasts, Man Boobs or Gynecomastia are an issue that plague upwards of 65% of men. The problem normally starts in the teenage years and can continue throughout adulthood. MyShape Lipo has developed a new technique to effectively eliminate gynecomastia and leave the male chest more flat and normal looking.
Trevor Schmidt PA-C is the liposuction specialist at MyShape Lipo and he has performed well over 15,000 liposuction procedures including over 1000 gynecomastia procedures. Through his experience, he's developed a unique technique to remove the vast majority of the tissue in the male breast. This leaves the chest flat and more masculine looking.
"I've personally had this procedure done and could not be happier," says Schmidt. "It's something that has bothered me throughout my childhood and kept me from enjoying the pool and beach due to insecurities. Now I'm confident and feel normal with my shirt off. It's literally changed the way I live my life."
Mark Ferguson from Memphis, TN had his chest treated at MyShape Lipo 2 months ago. "I could've gone to the pool the next day with my shirt off if it weren't for the bruising," says Mark. "My chest is like a man's chest should be. It's just amazing."
The procedure that MyShape Lipo offers is done completely under local anesthesia, so the patient is awake the whole time. Once the local area is numbed with tumescent numbing fluid, the Smart Lipo Laser is used to break up the tough glandular tissue of the male chest. After effectively melting the tough tissue just under the nipple, an aggressive liposuction cannula can be used to obliterate and remove the fat and tissue left in the chest area.
The results of this procedure have been astounding. While many may see this as a cosmetic procedure, those affected by gynecomastia see this treatment as a small miracle. To achieve a flat chest in less than an hour is a dream come true for most men.
The advantages of this procedure are many. First, this procedure is significantly more affordable than other options at nearly 1/4 the cost of other procedures. Second, the safety has been improved significantly with the elimination of general anesthesia. Finally, scars are almost non-existent with only a 2mm puncture hidden in a crease by the shoulder.
For those men out there that have been hampered by the appearance of their chest, MyShape Lipo has the solution. With affordable rates, complimentary consultations and vast experience with this procedure, MyShape Lipo can help make the dramatic changes it's patients demand.
About MyShape Lipo
MyShape Lipo is a specialty liposuction clinic located in Las Vegas, NV. Trevor Schmidt PA-C, the Liposuction Specialist has the experience of more than 15,000 liposuction procedures. Nearly 70% of their patients fly in from out of state for their specialized services, affordable prices and industry leading customer service. For a complimentary consultation by phone or in person call today, 702-818-5476.