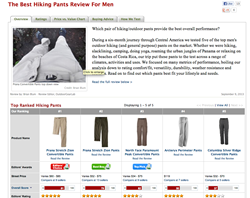 Whether we were hiking, slacklining, camping, doing yoga, roaming the urban jungles of Panama or relaxing on the beaches of Costa Rica, our trip put these design to the test across a range of climates, activities and uses.
Cheyenne, WY (PRWEB) September 26, 2013
OutdoorGearLab.com announced today the Top Men's Hiking Pants awards for 2013. Awards were given the the top performing outdoor pants, the best value, and the clothing that perform best in specific applications. Gear editors took these pants on a massive six-month journey to South America where they were put to the test in the jungle, on the beach, and in the mountains. Extensive lab tests and real world tests look at the following categories: comfort, durability, mobility, breathability and best bang for your buck. Convertible pants and standard hiking designs were evaluated and awards given for the best in each category.
The winners are:
Prana Stretch Zion Convertible, winner of the Editors' Choice Award for 2013. According to Gear Editor Brian Blum, "These won our top honors because they were good at just about any sport from hiking and climbing to walking and biking. They were also comfortable and stylish to wear around town after the days outdoor activities."
Prana Stretch Zion, winner of the Best Buy award for 2013. This award is given to a product that balances an extremely high score in OGL tests and a very reasonable price. According to Blum, "Not only was this one of the best deals, it was also our top scoring non-convertible pant. If you don't want to zip off the legs, then these are the pants to get. They also just look better than any of the other pants we tested."
North Face Paramount Peak Convertible, winner of the Top Pick award for 2013. This award is given to a product that excels at a specific application. In this case, this was the best pant for durability and travel walking (as opposed to more high heart rate activities). It is also worth noting that this can often be found on sale for half price and was the Best Buy winner in our women's hiking pants review.
OutdoorGearLab LLC is a company headquartered in Cheyenne, Wyoming dedicated to creating the world's best outdoor gear reviews. The company's website is a free resource for people who love the outdoors and participate in activities such as hiking, climbing, backpacking, and camping. The company performs side-by-side testing of outdoor gear and publishes the results in comparative reviews. Each product is scored across a range of weighted categories, competing products are ranked, and awards are provide to top performing products.