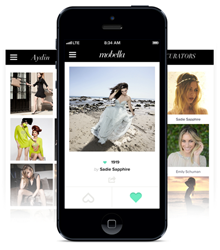 New York, NY (PRWEB) September 26, 2013
Mobella, a high end fashion photography app, has officially launched. Designed by Fueled (http://fueled.com), the free app now available in Apple's App Store includes a colorful interface, exclusive list of curators, and stunning fashion editorials. Its smart engineering makes mobile shopping enjoyable and easy to use.
Mobella sports a unique and intelligent discovery engine not seen in other fashion apps. When shoppers save their favorite images, Mobella learns personal style choices and matches people to specific products. If customers love a certain piece in any of the images, all they need to do is click on the photo, mark the item for purchase and make an easy purchase.
Although Mobella has only recently launched, founder Mike Blank is not new to the technology design industry. As the Vice President of Business Development at Mendeley, Blank helped to build "a practical tool for scientists that leverages data to match people to content." Recognizing the success of this model, Blank decided to create a fashion app that learns shoppers favorite trends and caters to their style preferences. As Blank states, "I wanted to apply [this] concept to an even bigger (and more fun) opportunity."
Because Mobella only selects exclusive curators, users are ensured that they are viewing the latest in fashion photography. The app's ability to recognize personal collections, fun and easy to use interface, artistic imagery, and ability to allow shoppers to purchase products straight from their mobile devices makes Mobella it stand out against its competitors.
When asked how Mobella differs from other fashion apps, Blank contends that "even when [competitors] do their job (namely, by facilitating discovery of new fashion), they rarely enable commerce. Most content is un-shoppable. And as soon as you scroll down a page, the connections that you've made in your mind, or the fabulous new designer you've learned about, are lost with the next set of streaming visuals."
"Most fashion discovery apps rely on crowd-sourced content. That's great for building communities centered around sharing, but it doesn't provide a credible source for stunning visuals. There's simply too much noise."
You can download Mobella today in Apple's App Store for your iPhone, iPad, and iPod Touch: https://itunes.apple.com/us/app/mobella/id653757751?mt=8.