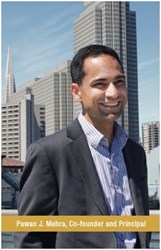 The discussion on diversity must go on.
San Francisco, CA (PRWEB) September 26, 2013
Améredia's founder and principal, Pawan J. Mehra, will join advertising industry's top pioneers at Advertising Week's 10th Anniversary in New York City. Mehra will share his multi-cultural and diversity-focused expertise on a panel alongside Heide Gardner, chief diversity & inclusion officer, Interpublic Group, and Keisha Vaughn, chief diversity officer, Draftfcb. The trio will be adding their own personal flare to the five day conference with an inspiring discussion on diversity, inclusion, and innovation within the advertising business.
Mehra has dedicated his professional career to fostering diversity in the advertising and marketing industries – his experiences from serving at the forefront of inclusion are sure to add a unique perspective to this stellar panel. Through his total-market vision, Mehra has spearheaded Améredia's rise as one of the most distinguished multicultural advertising agencies nationwide. The agency specializes in marketing to diverse groups like Hispanics, African Americans, Asian Americans, European Americans, Middle Easterners, Pacific Islanders, and the LGBT community.
"The discussion on diversity must go on," said Pawan J. Mehra. "We have come a long way on this issue but still have much more to do. Look around us and you will be convinced either way – much progress has been made in our industry and its reason to commend and celebrate, but much more also needs to be done to bring diversity at the forefront."
As the consumer market continues to diversify through the steady emergence of new growth opportunities and niche markets, the advancement of diversity and inclusion has become entirely necessary. The fittingly titled seminar, Advancing Diversity, Inclusion & Innovation, is a can't miss event as it provides an opportunity to learn firsthand from three of the industry's prominent diversity leaders. The discussion, presented in partnership with The Advertising Club of New York, will bring attention to the need for continuing the advancement of the diversity and inclusion movement in advertising and business, with the goal of driving innovation and creativity. Join the conversation on Thursday, September 26th, 2013 at 3:00 p.m. – 4:00 p.m. EST in Liberty Theater.
Advertising Week 2013 which kicked off this past Monday, September 23rd is now in full swing. The Week is the world's premier annual gathering of marketing and communications connoisseurs each year in New York City. With over 200 events, the conference has become a hybrid of thought leadership seminars featuring the industry's best and brightest. Now in its 10th year, The Week continues to inspire by creating an entertaining, enlightening, and engaging platform for all parts of the advertising industry. To learn more about Advertising Week visit: http://www.advertisingweek.com/.
About Améredia
Améredia Inc. (http://www.ameredia.com) is a full-service multicultural advertising, marketing and communications firm specializing in building brands within global cultures. The agency enables private, government and non-profit organizations to connect with Hispanics, Asians, Europeans, Middle Easterners, Pacific Islanders, Africans, LGBTs, and other diverse groups nationwide. Conceptualizing culturally engaging campaigns across print, TV, radio, online, outdoors, events, grassroots and social media platforms in over 20 leading languages, Améredia has positioned itself as one of the fastest-growing diverse market agencies nationwide. Connect with Améredia today: http://www.facebook.com/ameredia | http://www.twitter.com/ameredia.