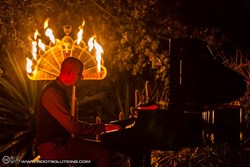 The Fire Garden is one of San Diego Counties hidden jewels.We welcome you to experience live performance in a setting that will leave you breathless.
San Diego , California (PRWEB) September 27, 2013
The Fire Garden is proud to host the San Diego album release concert for world class concert pianist Jeremy Weinglass' new work, "Choose Love".
Choose Love is Jeremy's 3rd original album and it covers the entire 24 years that he has been writing music. It takes the listener on a journey through his evolution as a composer and a person. The album's 17 solo piano tracks include the first song he wrote when he was 11 up through his most recent composition. Each composition was inspired by significant people or events in his life and as his sources of inspiration evolve, the compositions evolve with them as the album progresses.
The evening will also feature Ryan "Rif" Parks and Avatara Levine performing their latest fire and dance show. If you haven't seen Rif spin fire and light staff, prepare to be amazed
Our chef for the evening will be Ken San Diego. Ken will be serving a sampling of vegan, vegetarian and carnivorous delights as well as a selection of fine wines and our signature cocktail "The Pomegranate Martini!"
The Fire Garden has been hosting weddings and special events for the greater San Diego community for 11 years. The combination of beautiful, natural landscape ,original artwork and fire sculptures created by metalsmith Tony D'Aula, make for a most memorable experience.
Tickets can be purchased through Eventbrite:
https://chooselovethefiregarden.eventbrite.com/
We look forward to entertaining you under the evening stars in the tranquility of The Fire Garden!
For more info on Jeremy and to preview his beautiful, melodic piano music, please visit: http://jeremyweinglass.com/.