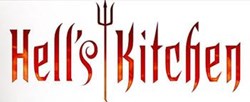 We are excited Wal-Mart has made it possible for everyone to enjoy making desserts like the ones created by our guest chefs on the show.
Minneapolis, MN (PRWEB) September 25, 2013
Maud Borup, Inc. and ITV Studios Global Entertainment today announce that Wal-Mart is now selling Hell's Kitchen gourmet crème brulee kits in their stores throughout the United States. Wal-Mart has chosen to offer their guests Hell's Kitchen crème brulee in vanilla and coffee flavors. Each crème brulee kit comes with a no bake mix and a topping of torched sugar bits that makes eight generous servings.
For the first time, consumers have the opportunity to prepare gourmet desserts in their home that are inspired by the Emmy®-nominated hit TV show, Hell's Kitchen, featuring Chef Gordon Ramsay. Hell's Kitchen is produced for FOX by ITV Studios America and licensed internationally by ITV Studios Global Entertainment.
"We are excited that Wal-Mart has made it possible for everyone to enjoy making desserts like the ones created by our guest chefs on the show", comments Trudi Hayward, SVP, Global Head of Merchandise, ITV Studios Global Entertainment.
"We rely on Maud Borup's expertise to develop Hell's Kitchen gourmet foods that reflect the high quality standards and spirit of the TV show as well as their ability to place the items at major retailers like Wal-Mart", adds Cynthia Modders, president, Firefly Brand Management.
Hell's Kitchen gourmet crème brulee kits are available now at Wal-Mart as an everyday item in the baking aisle for $2.98 per kit. "Now everyone can experience a bit of Hell's Kitchen in their own home", said Christine Lantinen, president, Maud Borup, Inc.
About Maud Borup, Inc.
Maud Borup is a privately-held, woman-owned, Minnesota-based wholesale confections company specializing in gourmet candy and food gifts that whisk you back to memories of Grandma's cookie jar and Mom's special treats. Maud Borup designs and manufactures licensed, branded, and private-label products supported by an in-house design and merchandising team with over 20 years in the specialty food gift industry. Maud Borup supplies mass and specialty retailers with confectionary gifts designed to fit their store needs and customer preferences.
In 2011, Maud Borup announced eco eggs™, an environmentally-friendly division producing the first 100% renewable plastic Easter eggs made from plants in the USA. Maud Borup and eco eggs were founded on business practices that respect employees, the environment, and the earth. Visit http://www.maudborup.com and http://www.ecoeggs.com.
About Hell's Kitchen
Hell's Kitchen USA, produced by ITV Studios America, has just completed its eleventh season. Hosted by superstar chef Gordon Ramsay, Hell's Kitchen puts aspiring restaurateurs through rigorous culinary challenges to see who has the skill, passion, and fortitude to win a life-changing prize. Airing nationally on FOX, the eleventh season of Hell's Kitchen ranked as the number one or two entertainment program of the night among adults 18-49 for each night it aired this summer.
About ITV Studios Global Entertainment
ITV Studios Global Entertainment is one of the world's leading international TV distribution and consumer products businesses. The consumer products division brings together home entertainment, promotions, licensing and publishing under one umbrella, with the merchandise and publishing operation bringing brands to life off screen, working with licensed partners and retailers to bring quality products to consumers. ITVS GE's successful and diverse portfolio includes ITV Studios brands like Hell's Kitchen USA and Come Dine With Me and third party properties such as Cut The Rope, Babar and Matt Hatter Chronicles.
Part of ITV PLC, which includes the UK's largest commercial broadcaster, ITV Studios Global Entertainment has offices in London, Cologne, Hong Kong, Los Angeles and Sydney.
About ITV Studios America
ITV Studios America, the U.S. based production entity of ITV Studios in the UK, is one of the largest international producers for the U.S. market and a major force in acquiring, developing and producing reality and scripted programming for U.S. networks. ITV Studios America has a slate of series in production with major networks and syndicators, including Hell's Kitchen, Kitchen Nightmares, The First 48, After the First 48, Four Weddings, The Chase, The Car Chasers, The Bill Cunningham Show and America Now. It has a host of soon-to-be announced series and a number of development and pilot projects in with a wide range of networks.
ITV Studios is a world leader in television production and distribution. It has international production centers in the UK, Germany, France, the Nordics and Australia as well as America.
###