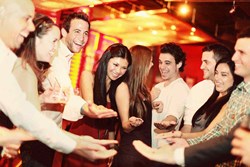 Los Angeles California (PRWEB) September 27, 2013
Drinking has a strong influence on people's social life. It is an important way for people to know each other. Many people start drinking because drinking makes it easier to develop interpersonal relationships. Some people drink in order to be confident or to relax themselves. While for millionaires, drinking has already been an indispensable part for their social life.
Recently, MillionaireMatch.com, a millionaire dating site, is releasing a research into drinking statistics among its members. The research reveals that more than 88 percent of its members drink socially. This compared with approximately 1.21 percent of millionaires drink regularly. According to the research, about 9.00 percent don't drink. Surprisingly, the proportion of people who are trying to quit drinking is much less than people who drink socially, which is only 0.10 percent among all the millionaires.
Obviously, most millionaires are drinking socially while not regularly. For non-millionaires, they may drink mostly for fun or celebration. But for millionaires, drinking means chances to know other millionaires, then to be business partners with them. Many business rituals revolve around alcohol. And businesses more often happen after the first or second drink. But what happens for non-drinkers in social life? They will not be invited because they do not partake in drinking. Compared with moderate drinkers, non-drinkers have a harder time climbing the corporate ladder.
Even millionaires know that drinking is not helpful for their health, they are not willing to abstain from it since it may hurt their careers. Dinking helps millionaires become more successful. At the same time, drinking isolates non-drinkers from their social life.
Besides, MillionaireMatch.com also finds that most millionaires (approximately 73.6 percent) have no preference about whether their match drinking or not. Only less than 3.74 percent of people decide not to marry people who drink. From these statistics, it is easy to discover that drinking won't be a problem for millionaires to find their match, at least on MillionaireMatch.com.
About MillionaireMatch.com
MillionaireMatch.com is a dating site which has been bringing together successful singles for over 12 years. Customers on MillionaireMatch include CEOs, pro athletes, doctors, lawyers, investors, entrepreneurs, beauty queens, fitness models and Hollywood celebrities. It also was voted as "Best of the Web" by Forbes.com.