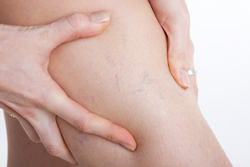 The ultrasound is a non-invasive diagnostic tool that is indispensible in the treatment of vein disease.
Tampa, FL (PRWEB) September 26, 2013
Millions of Americans are at risk for several types of vein disease, including some conditions that can lead to serious complications. The Premier Vein Institute, a Tampa, FL based vein center, is publishing a new article designed to help the public understand the factors that influence their vein disease risk. The center hopes the information it provides will help readers take action and address the lifestyle choices that impact their risk of vein disease.
Dr. Obinna Nwobi, a leading vein doctor at the Premier Vein Institute, cites age as a top risk factor for vein disease. "Individuals are more likely to experience vein disease as they grow older. A person's veins experience wear and tear as that person ages. This increases the likelihood of damage to tiny valves inside the veins, decreasing the efficiency of blood flow and increasing the risk of vascular issues."
The center's newest article focuses on several different aspects of vein disease risk and provides actionable solutions to help readers manage these factors. This new article, and many other similarly helpful pieces, can be accessed at the Premier Vein Institute website.
For more information, visit: http://www.premierveins.com.
Varicose Vein Treatment Options
Varicose veins and spider veins are extremely common in men and women. While spider veins are very small, reddish veins on the surface of the skin, varicose veins are much larger, bulging, tangled veins that may appear bluish in color. Men and women suffer from varicose veins, although women are much more likely to have them.
Today, patients have access to a number of effective varicose vein treatment options. Advancements in technology and medicine have led to the development of effective, minimally invasive treatments that produce optimal results with few side-effects or downtime. These treatments include sclerotherapy, radio frequency ablation, phlebectomy, and endovenous laser ablation.
About Premier Vein Institute
Premier Vein Institute is a leading source of vein disease treatment and education in four different Florida locations, including Tampa Bay, Lakeland, Brandon, and Plant City. The center is dedicated to diagnosing, treating, and preventing vascular disease as well as providing information on all types of vascular conditions. Board certified surgeon Dr. Obinna Nwobi heads the center, bringing his expertise in minimally invasive surgery to the Polk county area. Premier Vein Institute strives to offer the most up-to-date treatments available, allowing their patients to choose from surgical, non-surgical, and minimally invasive options. Equally central to the center's mission is education. Dr. Nwobi and his staff work to educate patients on preventative health to help reduce vascular disease related mortality rates. Patients who take advantage of Dr. Nwobi's expertise benefit from shorter hospital stays and faster healing times, allowing vein disease to be addressed quickly and easily.