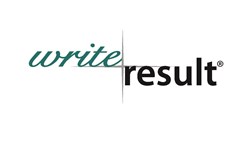 Cranford, NJ (PRWEB) September 25, 2013
Join Karen Briegs as she introduces Dennis Salotti (Director of Operations) and Ellen Goldberg (Director of Clinical Data Management) of WriteResult, for a free webinar, "Making ePRO Easy: Tips for Success When Selecting an ePRO Tool" on October 4, at 12:00-1:00pm EST or October 8, at 12:00-1:00pm EST. WriteResult is the leading provider of data management solutions for clinical research through collection and verification of ePROs leveraging digital pen and iPad technology.
Today's clinical teams have many decisions to make when starting a new study. Adding to the complexity is the increased demand from regulators and payers worldwide for understanding total health impact - which often requires collecting qualitative data from a patient's perspective. Converting patient assessment instruments into an electronic format provides many benefits of EDC, however, there are some questions you should ask when considering your options for ePRO/COA.
This one-hour webinar is designed for professionals in Clinical Operations, Medical Affairs, and Health Economics Outcomes Research, and will help you better understand the issues that could trip up your PRO/COA efforts – like licensing, validation, and equivalency - and will help you make sound decisions on the solution that is best suited for your study. Attendees will also receive a brief introduction to myPROpad – WriteResult's new ePRO solution for the iPad.
At the conclusion of the webinar, participants will be able to:
1. Apply the drivers for collecting PRO/COA data to their decision-making in selecting eTools
2. Identify which attributes of PRO/COA tools will most affect their trial
3. Ask questions of an ePRO solution provider to help in selecting the most appropriate tool
About WriteResult
WriteResult has a singular focus - making the collection of ePRO/COA data successful for sponsors by making it simple for sites and patients. Our digital writing solution combines the familiarity and ease of paper with the efficiency and data quality of EDC, and our 'myPROpad' application takes advantage of the exceptional functionality and security of Apple's iPad by transforming ePRO/COA instruments into large, crisp, user-friendly touchscreens. Our team of in-house clinical experts assures that you will receive complete, clean, ready-to-analyze data when and how you need it, every time. At WriteResult, we believe in making the success of your program...simple.
For more information on WriteResult, please visit http://www.writeresult.com or follow on LinkedIn.