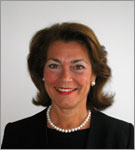 Families and family business enterprises have a better chance of success when communication is clear, effective and contributes to a collegial, more productive atmosphere
Chicago, IL (PRWEB) September 25, 2013
Linda C. Mack, founder and president of Mack International, the premier family office retained executive search and strategic human capital/management consulting firm, will co-lead a private session, and serve as an Advisory Board member for the Opal Financial Group Canadian Family Office and Private Wealth Management Forum West, September 26-28 at the Renaissance Vancouver Harborside Hotel, Vancouver, Canada.
The Forum is among Opal's premier events in North America for high net worth individuals and family offices from around the world. Many well established and senior family offices, private investors, money managers and private wealth service providers from around the globe attend for engaging discussions on the latest investment trends as well as non-investment issues surrounding family generations.
Linda Mack and Lisa Gray, Managing Member of Graymatter Strategies LLC, will co-facilitate the closed-door family breakfast roundtable session "How to Improve Communications Across Generations: Engagement, Entrepreneurship and Education."
"Families and family business enterprises have a better chance of success when communication is clear, effective and contributes to a collegial, more productive atmosphere," said Mack.
"We will discuss how ensuring effective multi-generational education and engagement is essential for promoting long-term harmony and sustainability in a family, family office and/or family business," said Mack. "Ideally, families provide an environment of ongoing, age-appropriate information and opportunities that extend beyond business and financial learning. These may include involvement on junior boards, family committees, family foundations and entrepreneurial activities that can help develop leadership skills and better prepare younger generations for wealth stewardship."
"Families enjoy these closed-venue opportunities to meet one another, discuss topics of mutual importance, share ideas and learn from one another's experiences," Mack said.
The session will begin with an overview presentation followed by breakout groups for interactive discussions among the families about key trends, challenges and best practices related to the subject of cross-generational communications and education. The participants will then be invited to share the highlights/interesting perspectives of their respective conversations with the group at large.
Mack International, LLC, headquartered in Chicago, is a global retained executive search and strategic management/human capital consulting firm serving clients in the family office/wealth management industry. For more information visit http://www.mackinternational.com or call 800.976.0015.