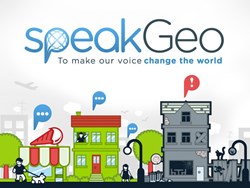 speakGeo has the potential to be a driver for social change. - Sumit Mehta, founder
Toronto, ON (PRWEB) September 26, 2013
Now anyone can start a community petition or give feedback on a local business from any device with a few simple clicks, thanks to a tech-savvy Gen X-er who has developed a new app to help rally people around issues big and small in their community and the world.
With speakGeo, founder Sumit Mehta talks casually about "changing the world," and it's easy to imagine news editors and politicians rolling their eyes. But they will soon learn what lobbyists, community organizers, and pollsters are already discovering: Mehta has designed a way to take global community activism to the next level.
This is how speakGeo works: As a person walks down any GPS-mapped street in the world and passes by any business or private location, truly "democratic" ratings and comments will pop up. This information is constantly updated and re-calculated in real time. This person can add their own feedback and even take it one step further by starting a petition and sending the location a mailed notification – all enabled by speakGeo, powered by the user.
Walking past a dilapidated building that is being vandalized? speakGeo enables the user to instantly start a petition to City Hall, which is immediately linked to countless others. Unhappy about the fracking proposed on land down the street? Or about that casino being built next to a church? Even while the user is still walking past the site, one click of a button can direct their feedback about these and other issues to the appropriate agency so their voice can be heard.
What makes speakGeo's potential for community impact so powerful however, is the proprietary automatic link to Facebook, Twitter, and other social media sites that can take any and all users' action viral within minutes. And since everyone is globally linked, whether they are trying to get the local bakery to put more blueberries in their muffins or rallying against discrimination in another nation, users can initiate — or join — action anywhere, immediately, and potentially reach millions of people with a single click.
In keeping with its spirit of "by and for the crowd," Mehta is giving the public an opportunity to participate in bringing speakGeo to market through the leading crowd-funding site kickstarter.com. speakGeo is the first app of its type to ever be accepted to participate in Kickstarter's program. To join the speakGeo movement, visit http://www.speakGeo.com/kickstarter or http://www.speakGeo.com.
To see how speakGeo is changing the world, view it in action at: http://youtu.be/9pta_uJz2fo.
Join the movement on Twitter: https://twitter.com/speakGeo and Facebook: https://www.facebook.com/speakGeo.