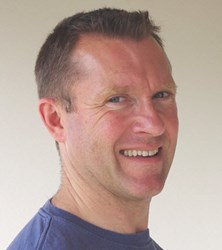 I thought if I could demystify this and talk about it in terms people will understand and do videos and show what it all meant, then people would be interested in following me.
VANCOUVER, BRITISH COLUMBIA (PRWEB) September 30, 2013
There are an increasing number of ways for websites to turn traffic into profits for their sites. Social media is quickly becoming one of these avenues where a recent Nielsen* report indicated that 2.5 billion pieces of content are shared on Facebook every day.
This is just one of the tactics discussed on the latest edition of Affiliate Buzz where James Martell, VP of Business Development at The School of Internet Marketing, spoke to ElectricSense.com editor Lloyd Burrell about turning someone's passion into a profitable online venture. Lloyd has run ElectricSense.com, a website dedicated to electricmagnetic field sensitivity, for the past 4 years which now averages around 30,000 visitors a month.
"I thought if I could demystify this and talk about it in terms people will understand and do videos and show what it all meant, then people would be interested in following me," explains Lloyd Burrell.
Many people often desire about turning their own personal interests into a business but struggle to get off the ground. Most personal interest sites start slowly and often only get a few hits a day during their infancy. But learning how to use different parts of the web such as Google and social media can help reach out to large audiences and improve traffic levels on a site.
Sites such as Facebook and YouTube can be indispensable resources for sites to upload videos and links which can then re-direct browsers to a particular site. In the podcast, James and Lloyd will discuss how these resources can help bring in extra traffic and help someone's personal interest blossom on the Internet. Website owners will also discover strategies to take real life passions and personal experience from just being a thought to a physical website.
"Being passionate about your topics can be a great advantage," comments Affiliate Buzz host James Martell.
Having a strong personal interest is a great motivation for starting an online venture and can be a profitable source provided it gets the right traffic levels from the right sources.
This discussion is available on the WebmasterRadio.FM website:
http://www2.webmasterradio.fm/affiliate-buzz/2013/09/12/outsourcing-secrets-revealed-7-tips-to-rapidly-grow-your-business
*http://www.nielsen.com/us/en/newswire/2013/using-big-data-to-engage-with-the-new-consumer.html
About ElectricSense
ElectricSense tackles the ill effects of cell phone radiation and electromagnetic fields (EMF's) on people head on. Autism and obesity is exploding, child diabetes is on an unexplainable rise, children are being medicated as never before. Does this need to be? Is this normal? No it's not. These dangers are very real; there is a growing body of research which says they are real. Visit http://www.electricsense.com to learn more.
About The School of Internet Marketing
The School of Internet Marketing allows business owners to take control of their web presence in order to develop new leads and customers. The School works to empower business owners with the understanding that a little education can go a long way. It offers a variety of 100% web-based courses and interviews for small business owners wanting to learn how to market their business online for just $47 per month. Visit http://www.theschoolofinternetmarketing.com for more information.
CONTACT INFORMATION
Contact: James Martell, VP of Business Development
Clearbrook Web Services, Inc/The School of Internet Marketing
Phone: (604) 535-6352
Email: james(at)theschoolofinternetmarketing(dot)com