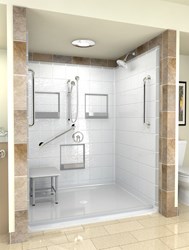 Premium gel coat roll in showers with built in padded seats and ADA compliant safety grab bars, for business or home.
Phoenix, AZ (PRWEB) September 25, 2013
National hydrotherapy walk in bathtubs supplier, Aging Safely Baths announces wheelchair accessible roll in shower stalls with a gel coat finish. According to the company, these quality low threshold showers are manufactured in the U.S.A. and come with an industry leading thirty year manufacturer warranty.
Unlike traditional showers that can have difficult to access entrances, these specialty appliances have threshold heights as low as .5". The company offers several ADA compliant showers with external dimensions of 63" x 31". In addition, the units come equipped with padded seats with fold down legs. As a convenience, the seats can be adjusted up when not in use to provide extra showering room for the bather. Wheelchair ramps can also be easily installed to help create a smooth transition.
The units also come standard with internal ADA compliant safety grab bars, a thick vinyl curtain, deluxe valves, a hand held shower system and a water stopper to act as a splash guard. Furthermore, customers who reside in the continental U.S. receive shipping at no cost on all appliances. Clients can order three piece showers or single piece units depending upon their specific needs. The multi-piece showers may be ideal for refinish projects, whereas the single piece units are more popular for new construction applications.
Handicapped showers and hydrotherapy walk in tubs can potentially alleviate fears of bathing for some people. Ultimately there's no such thing as a perfectly safe bathroom, however there are specialty bathing products that may help minimize the risk involved. The elderly and those with disabilities may face unique challenges when it comes to cleaning their body and getting in and out of a tub.
There are several different types of low threshold bathing products. Likewise there are many different personal needs, body sizes and bathroom sizes. So selecting the best step in tub or roll in shower should be a personal experience where many factors are taken into consideration. One of the more important things to consider is the seat size. It's essential to ensure the body size of the bather fits comfortably into the appliance and they're capable of raising out of the seat. The standard seat height is 17", although clients can choose to purchase a bathtub seat riser that can be compressed from 8" to 6.5".
Shoppers that prefer to have water to soak in, might want to consider the hydrotherapy option. These unique bathtubs can come with warm air jets and invigorating whirlpool water jets. Several of the models fit a standard 30" x 60" space and can be installed into residential and commercial locations. Learn more about senior bathtub products by visiting the detailed website or by contacting a customer care associate at the toll free number located below. Furthermore commercial facilities, contractors and builders can qualify for volume discounts on handicap shower parts, units and accessories when ordering in bulk.
Contact Information:
Zach Wennstedt
Toll Free 1-888-779-BATH(2284)
info(at)Agingsafelybaths(dot)com