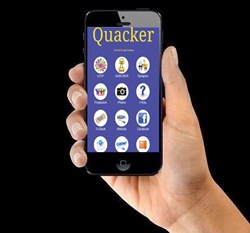 Another fantastic example of how the Theatre community can use mobile apps to connect with their audience.
New York, NY (PRWEB) September 26, 2013
AppMakr, a leading DIY mobile app builder, today announced that Quacker is the company's "App Of The Week" for September 22nd - 28th.
Each week, AppMakr features one app from the thousands published using our app building tool, called The Machine. This app was selected because it demonstrates the quality of content, design and relevancy that mobile apps can bring to groups trying to make a difference in their community.
With more than 1 Billion smartphones now active in the world, 84% of those users spending at least 1 hr each day on their smartphones, the base on potential mobile viewers for The Quacker Show is massive and growing quickly by the day. It was this potential that motivated AppMakr to create an easy drag-and-drop app builder platform that enables anyone to create an app like Quacker for free and without the knowledge of coding.
The Quacker Show and thousands of small to large businesses, schools, blogs, sports teams and community groups have selected the AppMakr DIY app maker platform to create and launch their mobile app for Android, iPhone and over 5,000 different models of HTML5 compatible smartphones.
In a recent interview about building the Quacker app, Tim Lane Stott shared with AppMakr about their experience entering the app economy.
AppMakr: What motivates you to go mobile?
Tim: The audience is at the centre of all we do and as our theatre product is highly mobile so should our communication be. In 2013, especially in somewhere as progressive as the UAE, parents teachers and indeed some kids are all mobile communicators and so it was important for us to be able to meet their communication needs and expectations.
AppMakr: How did you find AppMakr?
Tim: Appmakr provided us with a user friendly cost effective means of making our first app and took the fear out of going mobile with an easy to use app building platform and superb and prompt customer help response when needed. It made creating our app so simple and allowed us to produce a professional mobile app once we had thought through what content was useful and valuable to our customers.
AppMakr: What challenges do you face running your business?
Tim: Theatre is an exciting area of business and allows for huge creativity both in writing directing and producing children's shows. We have performed three annual shows to schools in the UAE with Little Red Riding Hood in 2011 and then the Little Mermaid in 2012 so we do have a loyal school following. However in the fast paced environment of the UAE the biggest challenge is communicating to our potential child audience and their parents with so much internet marketing about. We have found that using social media and our website and now the Quacker app, allows our potential audience to engage with us and share in the excitement of children's theatre in a convenient way that meets their needs.
To create your own mobile app, and have a chance at being named App Of The Week, go to http://www.InfiniteMonkeys.mobi and get started today.
About AppMakr
AppMakr, an organisation now part of Infinite Monkeys is a do-it-yourself app creation platform that lets anyone make your own Native iPhone apps, Android apps and HTML5 mobile formatted websites —with no coding required With four pricing options (free, $1/month, $9/month, $99/one time fee). AppMakr provides a range of affordable marketing solution to all small businesses, schools, community groups and individuals alike according to their needs.
By servicing the long-tail of niche interests with low-cost apps, AppMakr has become the largest DIY publisher of mobile apps in the world.
To learn more about how AppMakr is transforming the Mobile App Economy, please visit http://www.appmakr.com and follow https://www.facebook.com/AppMakr on Facebook as well as https://twitter.com/AppMakr on Twitter.
About Quacker
Quacker is a new mobile app available for Android, iPhone and HTML5 compatible smartphones, built using the AppMakr do-it-yourself app creation platform . It serves as the mobile presence of the Quacker Show and is packed with information and social media connectivity.
To download the Quacker app for your mobile phone, go to: http://theapp.mobi/quacker.
To learn more about The Quacker Show, please visit http://www.quackershow.com/.