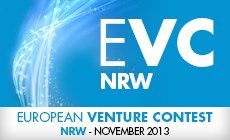 It has always been our vision and mission to nurture today's ideas into tomorrow's businesses.
Brussels, Belgium - Cologne, Germany (PRWEB UK) 25 September 2013
The European Venture Contest NRW (EVC NRW) on November 21, in Cologne, will showcase 30 selected North Rhine-Westphalia based innovative companies active in ICT, life sciences and clean technologies. A jury of expert reviewers consisting of 50 independent VC's, corporate investors, business angels and other industry experts will be reviewing the company pitches to pick the most promising 20. These top 20 presenters will get direct access to the European Venture Summit (http://www.e-unlimited.com/evs), the continent's largest venture marketplace uniting over 120 active investors and 120 upcoming entrepreneurs, to be held on December 9 & 10, in Dusseldorf.
Minister Svenja Schulze commented, "It has always been our vision and mission to nurture today's ideas into tomorrow's businesses. I believe, bringing home the European Venture Contest will provide the right network, pan-European benchmark, international exposure and fund raising opportunities for our innovative companies."
The EVC NRW is an initiative of Europe Unlimited, hosted the Ministry of Innovation, Science and Research of the German State of North Rhine-Westphalia, BioCampus Cologne, and the City of Cologne; in association with partner, City of Dusseldorf; and silver sponsor, NRW.BANK.
Microsoft Ventures, Evonik Industries AG, Siemens Venture Capital, Boehringer Ingelheim, Creathor Venture, Triangle Venture Capital, DuMont Venture, DSM Venturing B. V. & Limburg Ventures BV, Peppermint Venture Partners, PHS Fund, Aster Capital, Axiom Venture Capital and many more have already confirmed their attendance to the event.
Interested companies are welcome to sign up by October 15 at http://www.e-unlimited.com/evcnrw .
Event Format:
At the daylong contest on November 21, in BioCapmus Cologne, presenting companies will have up to 8 minutes each to convince a panel of investors about their innovations, scalability and business potential. Furthermore, marathon networking and idea sharing will go on beyond the breakout rooms, over coffee in the corridors, and during the networking lunch. There will be a rather hands-on and informal setting to improve collaboration, innovation and prosperity for everyone.
About the Organiser
Founded in 1998, Europe Unlimited (http://www.e-unlimited.com) is a private Belgium-based champion in entrepreneurship support. Europe Unlimited is the organization behind the International Venture Club (http://www.iventureclub.com), a global collaborative network of independent, corporate and institutional investors; the TechTour (http://www.techtour.com), Europe's leading platform for growth stage entrepreneurs and investors; and several other pan-European initiatives (http://www.e-unlimited.com/events/list-upcoming.aspx) in collaboration with regional and national development bodies and the European Commission.
In 2012, 850+ applications were reviewed online by investors, 500+ startups pitched and 130 made it to the Final of the European Venture Contest and the European Venture Summit 2012. To date, Europe Unlimited helped SMEs raise more than Euro €1.5 billion and promoted more than 2,500 entrepreneurs.