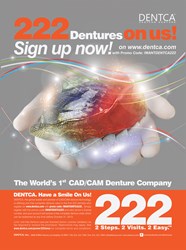 DENTCA's CAD/CAM Denture System Empowers Dentists to: 1.Deliver 100% accurate dentures from one impression. 2.Provide replacement dentures without additional chair time.3.Provide best-of-class quality dentures with significant time-saving procedures.
Los Angeles, California (PRWEB) September 25, 2013
As part of DENTCA's nationwide initiative to share life-changing, digital empowerment tools with dentists, DENTCA is providing one complete digitally-designed final denture (maxillary and mandibular) at no cost to the first 222 new dentists who register on http://www.dentca.com with the promo code IWANTDENTCA222 before October 31, 2013. This promotion is available on a first-come, first-serve basis, limited only to doctors across America who have not previously used the DENTCA CAD/CAM denture system. Complete details can be found on http://www.dentca.com/promo/222OnUs.
Why Quality Dentures Are Essential to National Health:
In the United States alone, there are over 33 million adults who are partly or completely edentulous -- and that number is predicted to increase to 37.9 million in 2020. According to a survey report published by the Centers for Disease Control in 2010, 17% of U.S. adults age 65 years and older have had all of their natural teeth removed, and the percentage ranges from 21% to 36% in the top 10 U.S. states. (1)
Additionally, because health and dental coverage differs vastly across the nation, the general public often fails to recognize how dental and total health care are always intricately interrelated. As every dentist knows, oral health and dental hygiene are essential biological determinants of a person's overall health and immune system. For diabetic patients who need a constant supply of protein, the ability to chew and eat properly is mission critical to their overall health condition. Without question, the state of a person's oral health has a direct relationship to the state of their overall health. Unfortunately, this relationship is not commonly understood by the average person who might neglect dental care in lieu of other health concerns.
Who Needs Dentures:
Oftentimes, a person might not realize they need dentures, or recognize that dentures may be a key component to improving their total health. A non-dental layman might recognize someone they care about needs dentures if that person is self-conscious about smiling, tends to avoid talking, or avoids eating in public altogether. If a person suffers from constant indigestion, it may also indicate the person needs well-made dentures to restore their ability to chew and digest food properly. Dentists can also recognize a person may need dentures if their gums are red, inflamed, tender, bruised or bleeding; or their teeth are loose and shifting; or gaps between their teeth are widening; or several teeth are already missing. For adults who already have dentures, existing dentures should be replaced or restored every 6 years to properly maintain.
Although the U.S. has some of the most advanced dental capabilities in the world, adults who need dentures for healthy living often go neglected due to the significant time and inconveniences surrounding conventional denture procedures. Many denture patients are also wheelchair bound, or live in nursing facilities, which makes transport for treatment difficult. Some of the extensive challenges with conventional denture procedures include excessive chair time required, unidentifiable patient needs, scheduling patients for multiple visits, additional equipment and devices required for procedures, extraneous lab costs and time with numerous adjustments, and even poor quality with the final denture itself.
To help resolve this monumental health care crisis which has been long in the making, DENTCA's mission is to provide modern dentistry the simplest process for making high quality, micron-accurate dentures -- empowered with digital tools from start to finish. DENTCA 's ultimate goal is to help dentists change the entire landscape of the adult population into healthier and more active lifestyles -- with one simple solution: providing 100% accurate dentures in only one hour of chair time and two patient visits.
How DENTCA's CAD/CAM Denture System Empowers Dentists:
1. Deliver 100% accurate dentures directly from one impression.
2. Provide replacement dentures without additional chair time.
3. Provide best-of-class quality treatment with time-saving procedures.
4. Be associated with high-quality, state-of-the-art CAD/CAM dentures.
Health experts know a good set of dentures can transform people into healthier, happier lifestyles, but having ill-fitting or poorly constructed dentures can also be disastrous. Regardless, many dentists still see dentures as the last resort due to the complicated procedures involved, and the widely held misconception that removable prosthetics are the end of the road for treating any patient. Fortunately, dentures come in many forms and functions these days, including implant overdentures, single arch dentures, immediate, and partials. Although generating upper and lower dentures together as a complete denture provides optimum results, DENTCA's digital system vastly simplifies single arch and implant overdenture procedures, enabling a range of incremental and total solutions for patients who need removable prosthetics.
In dentistry today, nothing should prevent a dentist or denturist from providing exceptional, high-quality dentures to all edentulous patients who need them -- except the time, human error, and inconvenience involved in traditional denture procedures. Fortunately for dentists and patients, the systematic difficulties inherent to conventional denture procedures are all but virtually eliminated with DENTCA's digital process. The digital divide facing modern denture providers today is similar to comparing express mail service to the Pony Express, or instant messaging to the telegraph, or a GPS navigator to a paper map. The choice is clear. If modern dentistry is to proactively solve the overwhelming health care issue impacting over 33 million edentulous Americans today, modern dentistry must embrace digital denture procedures without any further delay.
When You Are Known by the Smiles You Generate:
DENTCA's 222 On Us Promotion is an extension of DENTCA's Delivering Dentures with Dignity Program, initiated earlier this year to help doctors provide dentures to patients who need them but face severe challenges. DENTCA believes that if every dentist in America can deliver just two dentures a month, over 30 million happy, healthy smiles can be delivered in just six years so that every formerly edentulous person in America can once again Eat, Smile, and Be Happy™.
Doctors of Dentistry should take full advantage of this promotion and receive their first CAD/CAM-designed denture – including a 3D-printed try-in as well as the final denture – all at no cost by registering today. No hardware or software is needed to use DENTCA's system. There is nothing to lose, and a world of healthy smiles to gain by registering at http://www.dentca.com with the promo code: IWANTDENTCA222 before October 31, 2013. Doctors must be first-time users of the DENTCA system, and licensed in the United States to qualify for this promotion. Other restrictions apply. Visit http://www.dentca.com/promo/222onus for complete promotion details.
References:
(1) Prevalence and Trends Data: Oral Health, Centers for Disease Control and Prevention, 2010
About DENTCA:
DENTCA, Inc. (Los Angeles, California), the pioneer of CAD/CAM Denture Technology, produces high-quality dentures through computer-aided design (CAD), computer-aided manufacturing (CAM), proprietary 3D modeling, and scalable 3D printing technology. After introducing game-changing technology to dentistry, DENTCA received the Pride Institute's Best-of-Class Technology Award in 2012 -- the first denture company in history to receive this coveted award. DENTCA's patented tray system is designed to save significant time by enabling doctors to capture the impression, VD and CR in the same patient visit in less than one hour of chair time. DENTCA provides high quality denture fabrication services to prosthodontists, general practice dentists, denturists, mobile dental networks, dental laboratories, government agencies, dental schools, and corporate health care networks with 100% accuracy and rapid turnaround times through its award-winning 3D CAD/CAM technology. With extensive patent protection, client relations, academic collaboration, and dedication to R&D, DENTCA is committed to advancing modern dentistry with state-of-the-art, ground-breaking digital denture technology for years to come.
DENTCA, Inc.
3608 Griffith Avenue
Los Angeles, CA 90011
Tel: (323) 232-7505 | 855-4DENTCA | 855 433 6822
Fax: (323) 232-7504
E-mail: info(at)dentca(dot)com
URL: http://www.dentca.com
FB: http://www.facebook.com/dentcausa
Media: youngerhong(at)dentca(dot)com