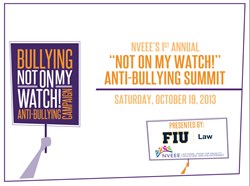 Miami, FL (PRWEB) September 25, 2013
National Voices for Equality, Education and Enlightenment (NVEEE) in partnership with Florida International University (FIU) College of Law during National Anti-Bullying Month will host the "Not on My Watch" Anti-Bullying Summit on Saturday, October 19 at the Modesto A. Maidique Campus located at 11200 S.W 8th Street Miami, FL 33199 from 8:30a.m - 2:30p.m. The summit is free and open to the public. Registration is required. To register, visit http://tinyurl.com/ksays7q.
The purpose of the summit is to empower bystanders to become upstanders by engaging families and communities in a critical dialogue on bullying and suicide prevention.
The uniqueness of this summit is that it is peer-led by NVEEE Peace Ambassadors, it is being held on the weekend of National Spirit Day, and more importantly, all stakeholders will have a spot at the table. This includes middle and high-school students, parents, teachers, administrators, counselors, support staff, faith-based communities, members of the lesbian, gay, bi-sexual and transgendered (LGBT) community, elected officials and policy makers, mental health professions, and will also include members of the media. In addition, the summit will include several educational formats including powerful breakout sessions, as well as a question and answer session with a panel of parents and bullying prevention allies.
Panelists will include: Jane Clementi, mother of Tyler Clementi, a gay teen who ended his life several days after a cyber-bullying incident by jumping off the George Washington Bridge. Cassidy McMillan, Producer and Director of the Award-Winning Documentary "Bullies and Friends". Trish Behnke and Tracy Fentress, the mothers of 14-yr-old best friends Haylee Fentress and Paige Moravetz, whose double suicide pact due to bullying and harassment shocked the nation. April L. Vance, President and CEO of Advance Project, and Jowharah Sanders, Founder and Executive Director of NVEEE.
Sponsorship opportunities are available by contacting Ms. Sanders at info(at)NVEEE(dot)org. For more information about the Summit, please visit http://tinyurl.com/lb8vvbv.
A special thank you to our current sponsors and donors: FIU College of Law, Hatten Design, Award-Winning Documentary "Bullies and Friends", Advance Project, Tyler Clementi Foundation, Mud Mingle, Karla's Party Creation, Rosie's Bar & Grill, Miami New Times, Robert Joshua and New Moon Bar.
About NVEEE:
NVEEE is a community-based nonprofit organization whose mission is to prevent bullying, violence, and suicide among youth, families and communities through direct service, mentoring and prevention education.
Education is an essential component of how NVEEE engages families and communities in moving towards social change. In four years, NVEEE has reached over 15,000 students, parents, educators and administrators through its signature "Not on My Watch" School-wide Bullying & Harassment Prevention Program, and was recently featured on an episode of ABC's Secret Millionaire for its work in the community. Visit our website at http://www.NVEEE.org.