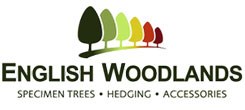 Some of English Woodlands' most popular fruit tree choices for gifts include apple, mulberries and pear trees.
(PRWEB UK) 26 September 2013
Gift buying trends have been changing over the last few years with consumers shifting their present buying habits towards more ethical and eco-friendly gifts for friends and family.
Judith Peate, one of English Woodlands friendly sales advisors comments, "We've continued to see peaks in sales for large containerised trees and shrubs during a number of events during the calendar year, including Mother's day, Father's day, and especially Christmas. We've witnessed a trend in visitors to our website and nursery seeking out long lasting, sustainable gifts. In this modern age people are finding it harder to provide a meaningful and thoughtful gift for loved ones. A gift like a wonderful fruit tree that will yield fruit annually and can last a lifetime is certainly becoming more and more popular every year and we continue to enhance our range to cater to the rise for trees as gifts."
Some of the more popular fruit tree choices for gifts include apple, mulberries and pear trees. English Woodlands are encouraging their customers to explore some of the more unusual fruit trees on offer, like Quince and Fig Trees, Mulberry, Kent Cobnut and Medlar, by offering 20% off their range of unusual fruit trees. The offer is open to both online buyers and visitors to the nursery. Online shoppers can visit the promotions page on the English Woodlands website and to claim the 20% savings, simply use the voucher code FRUITPLUS at the checkout.
With early autumn now here, the tree planting season is upon us and English Woodlands' resident on-site tree and shrub expert Graham Grimmett offers some tips to garden enthusiasts for this time of year.
1. With plums, pear and apple trees starting to yield fruit now, enjoy harvesting your fruit when ripe and pollination of your fruit trees can be improved by including an ornamental crab apple.
2. Keeping Camellias and rhododendrons well hydrated will certainly help create good flower bud formation next year.
3. Try to avoid pruning conifers now until next year if you want to avoid brown patches on your hedges.
With many trees and shrubs already starting to show their early autumn colour, like varieties of the native spindle Euonymus europaeus, the warm summer has produced a good crop of ornamental berries on trees such as Sorbus aucuparia our native Rowans are awash with beautiful ripe berries now.
Graham recommends, if there's enough moisture in the soil, it's definitely the start of the tree planting season. English Woodlands now have in fresh stock of their new of trees and shrubs in containers which are available to buy. Check out the new range of ornamental trees, shrubs and fruit trees.
Note to editors. English Woodlands supply high quality plants, large trees and tree planting accessories to a wide range of users across Great Britain, including private gardening enthusiasts, landowners, landscape contractors and local authorities. With high quality products and an outstanding delivery service that results in high plant survival rates for their customers, English Woodlands have established a strong reputation as one of the UK's leading suppliers of large trees, shrubs and tree accessories since 1918. Visit http://www.ewburrownursery.co.uk/ for more information.