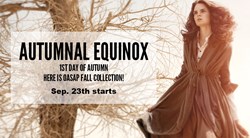 OASAP is a company who is good at leading the fashion and pushing fashion to people in need conveniently.
New York (PRWEB) September 27, 2013
With a view to making its online presence even more user-friendly, OASAP is launching a mobile version of the website in September.
The mobile site optimizes user experience on Smartphone devices, and is in line with OASAP's interactive strategy, which calls for developing and improving e-channels to make OASAP's services even more accessible to fashion pursuers.
The mobile site at oasap.com, launched a few weeks ago in English, features a simplified, user-friendly interface and a new look. OASAP users can view the site anywhere and anytime by simply inputting http://www.oasap.com, and they can even place orders on it directly.
"Fashion pursuers need a mobile site which can purchase the popular clothing at anytime and anywhere, while OASAP is a company who is good at leading the fashion and pushing fashion to people in need conveniently." OASAP CEO, Mr. Moore said.
The mobile site will help the users to find the daily trending easier. OASAP will release popular products daily, such as one-button blazer, biker jacket and printed leggings, and some of them are in limited quantities, and then mobile users will have a greater advantage to get one by a timely order.
It is reported that, OASAP mobile site has received a large number of users, and more than one hundred orders at the first day. Most of the users purchased cardigan sweaters and women's coats to welcome the coming autumn.
By the way, OASAP will provide 20% off for the orders from mobile users who will use OASAP coupon code of "OASAPMOBILE".
About Oasap.com
OASAP IS: A High-street Fashion Online store
OASAP Likes to: Deliver fashion & love!
OASAP is a global online store dedicated to high-street fashion by offering various kinds of women's apparel, bags, shoes, jewelers, accessories, beauty products, etc.
OASAP was founded in late 2011, and has already grown to the leader of high fashion online stores. It keeps updating products at a high rate with more than 300 new products every day. Those products mentioned definitely belong to the latest fashion trend.