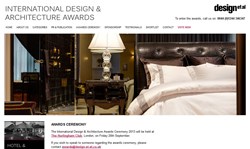 (PRWEB UK) 26 September 2013
Luxury interior design and architectural practice, Casa Forma, won an International Design & Architecture Award (ID&A) for 'Living Space' for their One Hyde Park project at the Design et Al Awards held at a ceremony in the Hurlingham Club on 20th September 2013.
The International Design & Architecture Awards, are hosted by design et al, a leading UK interior design magazine. Their aim is to commend design, recognize talent, create opportunities and quite simply to offer inspiration. The ID&A Awards offer a number of different categories covering residential architecture, interior design and product design to name a few. This year's awards saw an increasing number of entries from international firms as these awards become the worldwide industry standard to recognise interior design, architecture, and product design talent globally.
Casa Forma's founder and CEO, Faiza Seth, comments, "We are thrilled that Casa Forma has been honoured with this award that pays tribute to our team's professionalism, creativity and expertise. The International Design & Architecture Awards recognise talent within the interior design industry, and most importantly, are voted for by industry professionals as well as design et al readers. We are delighted to have been singled out by such an esteemed ensemble and pleased that our commitment to excellence is being celebrated within the industry."
Casa Forma is an award winning architectural and interior design firm headquartered in London. Their international practice provides comprehensive interior design and architectural design services for residential, commercial and hospitality properties. Their experienced team is led by world-class experts from the fields of decorative and structural design. They place absolute importance on understanding the particular needs and wishes of their clients for a professional service delivered to an uncompromisingly high standard.
For more information about Casa Forma's portfolio of high specification residential, commercial, hospitality and marine projects please visit http://www.casaforma.co.uk.
For more information about ID&A visit: http://thedesignawards.co.uk/designandarchitecture/interview-casa-forma-2013.html.