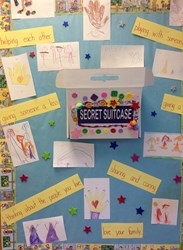 Sending kind wishes to my classmates made me feel good - one of the children from the Montebello School
Geneva, Switzerland (PRWEB UK) 25 September 2013
Merel Bakker, author and creator of the Maks & Mila School Program and children's book "Maks & Mila On a Special Journey", has visited two of the US schools that recently adopted the new program. The curriculum is offered free to schools and uses mindfulness techniques to foster confidence and happiness in children, particularly young readers with dyslexia.
On Monday 16 September 2013, Bakker visited the Fortune Academy in Indianapolis. Janet George, Head of the Fortune Academy, commented, "The program gives children the feelings of happiness, love and joy, and strengthens them to deal with challenging moments. Having the children create their own Secret Suitcase, is a fun, creative process, that ties in perfectly with the story and provides the children and teachers a great opportunity to share kindness and love."
Four days later, Bakker visited the Montebello School in New York, where 10 classes (K to K2) were excited to listen to the story - which they already knew by heart - and enjoyed sharing kind wishes with each other.
The Maks & Mila school program is based on the same concept that is used in the Maks & Mila series; using the Secret Suitcase as a tool to store wise and happy thoughts and to share kind wishes.
Bakker was overjoyed by the positive response from children and teachers and stated, "Being able to reach so many children, and enabling them to structurally develop joy, kindness and self-confidence, as part of their daily school routine, is not only beautiful but also necessary if we want our children to become the leaders that this world so desperately needs."
About the author:
Merel Bakker is a writer and certified mindfulness expert. In addition to writing and publishing children's books, she blogs for the Huffington Post on parenting and healthy living and also hosts her own live show at MomTV. She holds a Master's degree in International & European Law and has multiple degrees to teach mindfulness. (http://www.huffingtonpost.com/merel-bakker/).
"Maks & Mila On a Special Journey" is available for purchase on Amazon and the free Secret Suitcase app can be downloaded from iTunes.
Press wishing to interview the author, get copies of the book or learn more about the free school program, can contact Mila Publishing or visit http://www.Maks-Mila.com for more information.