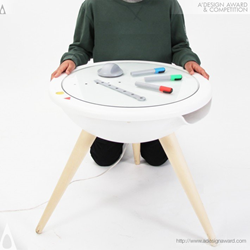 Como, Italy (PRWEB) September 29, 2013
A' Design Award and Competitions are happy to announce that the project Paintable by Nien-Fu Chen and Herman Hansson has been announced as a winner of the notable Golden A' Design Award at Baby, Kids' and Children's Products Design Category and selected by the transnational jurors of the A' Design Award & Competitions among thousands of projects.
About Paintable
The Paintable is a multi-function table for everyone, it could be an ordinary table, a drawing table, or a musical instrument. It allows the usage of different kind of colors to paint on the table surface, to create music with the friends or family, and the surface will transfer drawing to become melody by color sensors. There are two drawing ways, creative drawing and music note drawing, kids can draw anything they want to create random music or use the rules that has been designed to fill color on specific position to make a nursery rhyme.
To learn more, please visit: http://www.adesignaward.com/design.php?ID=28434
The Golden A' Design Award
The Golden A' Design Award is a prestigious award given to top 3% percentile designs that has achieved an exemplary level of greatness in design. The designs are judged by a panel of three different jury which is composed of Academic, Professional and Focus Group Members. The designs are evaluated with score normalization to remove any biases and are voted on aspects such as functionality, ergonomics, engineering, presentation, innovation, usability, fun details, technology, and any other specific points that could be considered, each of these points are further weighted for different jury groups.
About A' Design Award and Competitions
A' Design Award and Competitions, aims to highlight the excellent qualifications of best designs, design concepts and design oriented products. A' Design Award and Competitions are organized and awarded annually and internationally in multiple categories to reach a wide, design-oriented audience. To learn more visit: http://www.whatisadesignaward.com