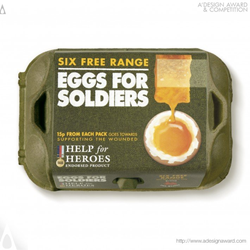 Como, Italy (PRWEB) September 30, 2013
A' Design Award and Competitions are proud to see that the work Eggs For Soldiers by Jon Vallance and Moyra Casey has been granted the famed Golden A' Design Award in Packaging Design Category picked as a winner by the respected arbiters of the A' Design Award & Competitions among numerous designs.
Details of Eggs For Soldiers
The Eggs for Soldiers is a free range egg brand created to raise awareness of the Help for Heroes charity. The brand's name points to the quintessential British breakfast, boiled eggs and toast 'soldiers', whilst also communicating its charitable intent. Using iconic product photography, a visual and emotional icon for the brand ('the egg medal') was developed, rooted in its partnership with Help for Heroes.
To learn more about the award winning design: http://www.adesignaward.com/design.php?ID=28749.
Creative Team for Eggs For Soldiers
Eggs For Soldiers was designed by Designer Jon Vallance and Creative Director Moyra Casey.
The Golden A' Design Award
The Golden A' Design Award is a prestigious award given to top 3% percentile designs that has carried out an exemplary level of excellence in design. The designs are judged by a panel of three different jury which is composed of Academic, Professional and Focus Group Members. The designs are evaluated with score normalization to remove any biases and are voted on aspects such as functionality, ergonomics, engineering, presentation, innovation, usability, fun details, technology, and any other specific points that could be considered, each of these points are further weighted for different jury groups.
About A' Design Award and Competitions
A' Design Award and Competitions, aims to highlight the excellent qualifications of best designs, design concepts and design oriented products. A' Design Award and Competitions are organized and awarded annually and internationally in multiple categories to reach a wide, design-oriented audience. To learn more, visit: http://www.whatisadesignaward.com.