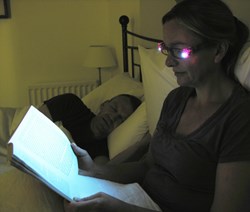 I like the fact that I can wear these attractive glasses as standard reading glasses with the lights switched off for everyday use and switch on the lights when I need them if the light is too dim.
Stockbridge, Hampshire (PRWEB UK) 27 September 2013
Being able to read in bed without disturbing a partner can now become a dream come true with LED Glasses from Vision Enhancers. Being launched at the Young at Heart Show on 5th and 6th October 2013, the new reading glasses include bright LED lights on each arm to direct light exactly where it is needed. The stylish, comfortable glasses can be worn as standard reading glasses with the lights switched off for everyday use and the lights can be switched on when they are needed if the light is dim.
Extra daylight quality LED light projected right onto the page being viewed was the aim of launching these optician-designed illuminated reading glasses. Whether it's for following a map in the dark in a car, reading on a plane or browsing a menu in a restaurant, these glasses will provide extra illumination when light is low. Help is also at hand for hobbies and crafts where close detail is being viewed and eyes may become tired, as these glasses can light up the task and relieve eye strain, while leaving hands free. The versatile LED glasses can also provide extra light as well as magnification for other jobs such as DIY and home improvement tasks as well as late night studying.
The stylish LED glasses are available in a choice of 4 appealing colours, Tortoiseshell, Pink, Black and Burgundy in strengths from +1.00 to +4.00D in 0.50 steps. LED reading lights are located discretely on each side of the frame to provide extra illumination when and where it is needed. The lights are positioned for optimum viewing angle and can be easily switched on and off for maximum brightness with the flick of a switch, handily located in each arm.
Rory McClenaghan, Vision Enhancers Director and Optometrist commented "Additional light can be so vital in helping people to see more clearly. Having the lights within the glasses being worn means that the light is directed exactly where the user needs it. We have had great feedback from people using them, from being able to read comfortably in bed, to reading in the dark in a car, to illuminating a DIY project or providing extra light for a sewing task. We've even had feedback from people who have found them useful during a power cut. They are a very versatile way to provide hands-free daylight quality light."
The Young at Heart Show was chosen as a great opportunity to launch the LED Glasses, a lifestyle show for modern, active, older people. Just the sort of people who might find LED glasses a help with reading and close work in their daily lives. The event is being held at Alexandra Palace on Saturday 5th and Sunday, 6th October 2013, 10.30 to 5.30pm with a huge variety of attractions including celebrity hosts, catwalk shows, expert seminars and free masterclasses as well as a vast selection of stands to visit offering many different products and services. Vision Enhancers, on stand L31, will be featuring the new LED glasses and will also be demonstrating other useful vision aids such as Fit-over Sunglasses, Magnifying Glasses and Task Lighting to help with crafts and hobbies as well as vision loss. Normal ticket prices to attend the event are £6.00 per day for an adult but Vision Enhancers are able to offer free tickets to attend the Young at Heart Show by clicking here.. Just enter 'Vision Enhancers' in the promotional code to register.
Visit Vision Enhancers on stand L31 at the Young at Heart Show to try the new LED Glasses. To find out more about these handy new reading glasses, visit Vision Enhancers LED Glasses, email to the address given or call 0800 112 3695.
Ends
Notes
Vision Enhancers Ltd. is a private limited company based near Stockbridge in Hampshire. They provide a range of vision aids and magnifying glasses for both near and distance viewing. The portfolio of products includes reading glasses, fit-over sunglasses, hand held magnifying glasses, stand, illuminated and electronic magnifiers as well as spectacle mounted magnifiers, telescopes, binoculars and lighting.
With hospital optometrist, consultant ophthalmologist and rehabilitation for the visually impaired backing and support Vision Enhancers provides carefully chosen vision aids from quality manufacturers which have been tried and tested by optometrists in their clinics. This is complemented by advice and guidance on choosing and using Vision Aids and information on how to help vision, living with vision loss and the leading eye conditions causing low vision.
Vision Enhancers provides visual aids through an e-commerce website http://www.visionenhancers.co.uk and a full-colour catalogue and supplies members of the public directly as well as through hospital clinics, societies for the blind, local authorities, social services, opticians, care homes and education.