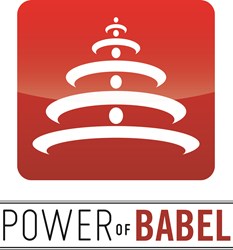 Our vision is to take away the stress of multilingual versioning. We deliver accuracy and authenticity in every language.
Toronto, Canada (PRWEB) September 30, 2013
Getting your message out to the world just got easier. A new Canadian company is offering multilingual versioning – translating and recording audio and video in any language.
Power of Babel offers a complete range of localization services: translation and script adaptation, dubbing, voiceover recording, subtitling, text replacement, closed captioning, and full-service audio production.
The company is based in Toronto, one of the world's most diverse cities. It has recruited a team of producers, translators and voice performers with roots and connections that span the globe.
"Toronto attracts highly educated, experienced professionals," says co-founder Eric Geringas. "There are filmmakers, writers, broadcasters and actors here from all over the world. We're finding them and harnessing their talents."
Power of Babel has already handled multilingual projects for such clients as Fairmont Hotels and Resorts, the Luminato Festival, the Ministry of Foreign Affairs of Japan, NHK (Japan Broadcasting Corporation), and Foreign Affairs and International Trade Canada.
Currently, the company is getting ready to dub a 13-episode TV series from English into French for broadcast on Quebec's Canal Vie.
"Producers and agencies often find international versioning to be a stressful experience," says partner Dave Boire. "Our vision with Power of Babel is to take that worry away – to deliver the highest standards of accuracy and authenticity in every language."
Geringas is an award-winning documentary filmmaker, a former senior writer at CBC News, and a native Russian speaker. Boire is the founder and president of DB Audio, an audio production house that specializes in recording the human voice for the advertising, broadcast and e-learning industries.
For more information and a free quote: info(at)powerofbabel(dot)com.