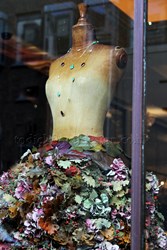 'The floral masterpiece adds a splash of colour to the window display' says head designer Laura Fisher 'the autumn attire includes natural oak, eucalyptus leaves, dried hydrangea and wild berries'
(PRWEB UK) 27 September 2013
The autumn season has fallen upon us and has cast the UK into an amber hue. Florist Todich Floral Design has created a new floral display which has been inspired by the autumn tones.
The floristry company from London provides large exhibits for the restaurants flower window on a monthly basis. Combining antique furnishings with fresh vegetables and herb plants, each flower display is unique, striking and complementary to the restaurant's brand.
The September's London flower display has been influenced by London Fashion week. Including elements of the prestigious event into their design, the florists have sourced an antique mannequin which will be fitted with a dress in earthy palettes of spicy reds, burnt oranges and natural browns.
The rich tones of the leafy display have inspired the head chef to create a seasonal menu for his diners. As an ode to autumn, and influenced by the warm colours and scents, Mr Chavot has added roasted hazelnuts, chanterelles, tarte tatin, courge musquée and soupe au potiron for an added taste of autumn.
The window display has a warming natural glow that will brighten up the shortening days. The London florist teamed up with jewellers Tateossian to add the finishing touches to the exhibit. The jewellers decorated the mannequin with a delicate necklace that was in jewel-tone shades.
The exhibit can be viewed in Conduit Street, London until the end of September.
Todich Floral Design – Flower Shop in London
Todich Floral Design is a specialised events florist based in London: with over 17 years' experience, the company has an excellent reputation in providing unique and bespoke flower designs for all special occasions. Todich Floral Design sources all their flowers from UK suppliers to ensure that their produce is the best quality money can buy.