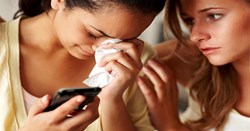 "This Movement against Bullying needs to gain more momentum and that only happens with sharing knowledge and experience and truly empowering children to stand up for their safety online and everywhere."
London,UK (PRWEB) September 26, 2013
Dr Lisa Destun, with a Ph.D. in Clinical Psychology from the University of Western Ontario in Canada, talks to NoBullying.com today on Bullying and Cyber Bullying.
According to Dr Destun, bullying refers to the use of physical force, coercion, abuse of power, or peer pressure to abuse, insult or intimidate others. It typically involves an imbalance of power, and often recurs over time. Bullying has harmful effects on the victim's self-esteem, and can cause depression, anxiety, sleep disturbance, hopelessness and helplessness, and a host of physical complaints. When persistent, victims can become suicidal.
When it comes to awareness, Dr Destun says, "It is my sense that even with this increased awareness, the overall incidence of bullying has not decreased, likely due to the social influence of the internet. Even so, along with greater awareness, there seems to have been an increase in bullying being identified and addressed, and an increase in bystander intervention."
She encourages parents and teachers to watch for signs of a child being bullied: "Often they do not speak up out of fear of making matters worse, or out of shame. It is not uncommon for a victim to begin to believe what is being said about them and therefore feel that they deserve to be bullied or have brought the bullying on in some way."
Macartan Mulligan, Co-Founder of Treze, said, "We are thrilled about the vast array of experts in the field willing to share their knowledge and experience with us to combat bullying." He added, "This Movement against Bullying needs to gain more momentum and that only happens with sharing knowledge and experience and truly empowering children to stand up for their safety online and everywhere."
Mulligan encourages experts from all over the world to join the Movement against Bullying by contributing to NoBullying.com via media(at)nobullying(dot)com.
He added that parents and teachers should make a point to educate the younger generations about the sad outcome of bullying online and off line.
NoBullying.com features many pages dedicated to parents, teens, teachers, health professionals as well as posts related to cyber safety and the latest news about law making concerning curbing Bullying worldwide as well as inspirational Bullying Poems and Bullying Quotes.
The website makes a habit of updating its bullying statistics and cyber bullying statistics regularly because it is essential to understand how widespread the bullying epidemic is.
He also added that anyone suffering from bullying in any form or way can always reach out to the team of NoBullying and they will be given advice on how to stand up to bullying or protect themselves online.
The founders of the website hope that viewers can truly learn about bullying definition as well as school bullying and workplace bullying and put a serious effort to making it stop by education and caution and not by violence. NoBullying.com is not a mere website but an actual movement against bullying.