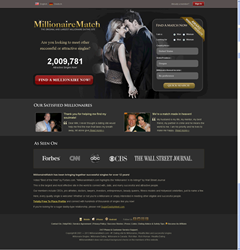 Los Angeles (PRWEB) September 26, 2013
The dating industry consensus is that among quality websites specializing in matching wealthy with non-wealthy people, the best organized service catering to this niche is available at http://www.millionairematch.com. The firm has achieved notoriety as an authority on the niche from sources as disparate as Huffington Post, Forbes (who voted it 'best of the Web'), Reuters and other major sites, and clearly states it is the largest and original online personals of its kind on its homepage. Both customers and staff report on its growing influence as both a direct service, and as a cultural barometer of dating trends.
In recent months, the site announces, the results of surveys the site conducted of its clientele or the current population have made the news in widely distributed stories across the web. Examples include headlines concerning the fact that over 85% of millionaire men prefer to date women with less money, or another mentioning that over 100,000 US single moms have joined MillionaireMatch.com. Also recently, an internal survey of its US female members showed that at least one in 10 of them are divorced. Given the roughly 2,000,000 total members of the service, the large samples surveyed are projected to be among the most accurate polling sources of the dating population.
While some may think the idea that wealthy people would want to match with people outside their financial class as far-fetched, Millionaire Match representative Darren Shuster suggests these numbers are accurate. He feels the respondents have nothing to lose by telling the truth, and often simply want to help others seeking a match. "We were very surprised to learn that the great majority of our male millionaire members sought non-millionaires. It seems that financially independent men want to share their wealth with those less fortunate."
Shuster adds, "There are so many scammers on dating sites, especially for millionaire dating sites. But MillionaireMatch.com has an impeccable scammer-screening system to pick up those fake profiles, and the site can make sure all members on MM are real members." The staff affirms that Millionaire Match is a serious dating site for millionaires. The site approves profiles very seriously, and low quality profiles are not allowed.
Users of the service are advised to evaluate the social dynamics of engaging a millionaire should they try to date them, say past participants and representatives of the service. Certain amount of honesty should be practiced by both sides as to their assets, and their motives for seeking a match. As shown on the popular TV reality series Millionaire Matchmaker, some non-wealthy may be golddiggers, while some wealthy persons could be over-controlling, and simply want a glorified one night stand. The site expects to dominate in this niche online foreseeable future, and may be expanding into TV in its own right in the coming months.