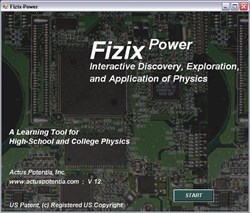 "I don't know what's the matter with people: they don't learn by understanding, they learn by some other way — by rote or something. Their knowledge is so fragile!" - R.P. Feynman
Ames, Iowa (PRWEB) September 27, 2013
Actus Potentia's Physics software is a 24-7 tutor that focuses on building strong foundation in physics. The interactive and structured problem solving environment is perfectly tailored for Problem Based Learning.
The Applied Concept Mapping tool and targeted applications in heat and thermodynamics, optics, electricity and magnetism are aligned with the College Board Learning Objectives for AP Physics-B.
The objectives of Fizix-Power are:

Comprehension: Improve learners' comprehension of the laws of physics, conventions and definitions in physics, and algorithms and rules for solving physics problems.
Analysis: Improve learners' ability to develop systematic strategies for analyzing physics problems with known and unknown quantities and to partition a problem into sub-problems.
Application: Improve learners' ability to plan a solution process, to monitor the progress, to change course and debug, and to reflect and self-evaluate.
Success: Improve students' self-motivation, brings success, while increasing students' self-efficacy.
Impact: Improve students' ability to recognize the impact of physics on society.
Fizix-Power can be used by teachers in a classroom to build following competencies:

Making reasoned decisions in unfamiliar situations.
Critical thinking to examine assumptions and evidences, determine and update objectives, and evaluate conclusions.
Creative thinking to seek alternatives, combine ideas, and re-define problem.
Construct own understanding through experiences and reflections.
Identify weaknesses and remedying with self-directed learning.
Collaborating in groups.
Fizix Power provides an interactive environment to foster engagement:

Active learning by posing own questions and seeking answers
Progressively moving toward more challenging situations
Learning for connected essential concepts instead of isolated facts.
Frequent feedback for analysis, application, and synthesis.
Fizix-Power prepares students in critical reasoning, logical and analytical approach to problems, decision making, and self evaluation.
Fizix-Power is in line with Actus Potentia's Mission - educate excellent scientists and engineers for the future. Actus Potentia is a company that builds learning tools to bring educational technology in classrooms.