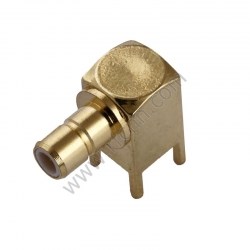 (PRWEB) September 25, 2013
Recently, RFcnn.com, a leading company in the field of RF connectors, has launched a promotion of SMB connectors. Now, all its SMB connectors are offered at greatly discounted rates. The promotion will be valid until Oct. 16, 2013.
According to the CEO of the company, an SMB connector is a coaxial RF connector, and it is smaller than an SMA connector. This connector features a snap-on coupling and it offers excellent electrical performance from DC to 4 GHz.
"Quality products and services can make a reliable brand in the long term. Our SMB connectors are specially designed for the high end customers in the label market; these customers put much emphasis on product quality. We are ready to accept OEM orders to satisfy different customers' requirements," says the CEO.
These functional and reliable SMB connectors are priced very low than their actual worth. It is no doubt that these connectors are of exceptional quality. RFcnn.com has a great reputation of supplying high quality RF connectors for years.
With much expertise in the manufacturing industry, the company has the ability to provide all kinds of connectors in a big quantity. Quality control is very strict here. Now, RFcnn.com has become one of the most popular RF connector suppliers, and this is supported with lots of facts and figures from the market.
About RFcnn.com
RFcnn.com belongs to Zhenjiang Fourstar Electronics Co. LTD, which is a China based company that aims to provide customers high quality RF connectors at the lowest possible prices. A large proportion of RFcnn.com's customers will come back soon after their first deals.
More details can be found at http://www.rfcnn.com/SMB-Male-Right-Angle-for-PCB-RF-Connector-165.html.