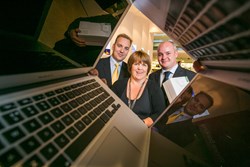 Dublin, Ireland (PRWEB UK) 26 September 2013
AIB Merchant Services, a merchant acquiring joint venture between First Data Corporation and Allied Irish Banks p.l.c., today announced the launch of Authipay, a new online payments service which combines a payment gateway and merchant account. The new service has been designed to enable business owners to maximise selling online and take advantage of the growing adoption of ecommerce.
Authipay gives businesses access to secure and fast web-based transaction and merchant services with easy set up and integration. The service provides multi-payment and multi-currency settlement options and can provide quick boarding so businesses can accept online payments fast. Following a successful pilot phase, Authipay has already processed over one million Euro worth of transactions.
In line with the launch of Authipay, AIB Merchant Services commissioned a survey of business decision makers in Ireland*. The research provided a number of insights into the opportunities and challenges that selling online presents to Irish businesses today such as the following:

Increasing online visibility is the biggest challenge for Irish websites according to 75 percent of businesses
Seven in ten businesses favour a mentoring network of ecommerce professionals with access to experience and advice saving time cost
65 percent believe that Irish websites can compete with international websites
More than half believe that partnerships will enable Irish online businesses to meet consumer expectations and demand
Four in ten businesses surveyed already operate or plan to operate an ecommerce website with increased growth from online sales and new market opportunities viewed as a driver for 60 percent and reduced costs key for 53 percent
Of the 6 in 10 businesses not yet operating an ecommerce website, 80 percent cited lack of opportunity as a barrier while 12 percent claim that lack of knowledge and expertise is a barrier. Only 8 percent claimed that cost was a barrier
The most essential website features as highlighted in the Authipay ecommerce survey is the ability to make online payments quickly, easily and securely (86 percent) as well as responsive web design (72 percent)
Nigel Motyer, General Manager of First Data's Europe, Middle East & Africa Alliances, comments, "This research reiterates that businesses in Ireland are both positive and realistic about the need to sell online and we believe services such as Authipay will help to drive this adoption. All too frequently consumers are purchasing from websites outside of Ireland as they can't find an Irish online retailer. With the launch of Authipay we have made it easier for Irish retailers looking for an online presence to get trading online quickly and easily."
Survey conducted of 200 business decision makers in Ireland by iReach, 2013
About AIB Merchant Services
AIB Merchant Services (AIBMS) is one of Ireland's largest providers of card payment services. The company employs more than 80 people in Republic Ireland and the UK. AIBMS is a joint venture between AIB plc and First Data Corporation, a global leader in electronic commerce and payment services
About First Data
Around the world, every second of every day, First Data makes payment transactions secure, fast and easy for merchants, financial institutions and their customers. First Data leverages its vast product portfolio and expertise to drive customer revenue and profitability. Whether the choice of payment is by debit or credit card, gift card, check or mobile phone, online or at the checkout counter, First Data takes every opportunity to go beyond the transaction. More information about the company is available on FirstData.com as well as on Twitter, LinkedIn, Facebook and YouTube.
If you would like more information please contact:
Cathy Riordan
Managing Director, PR Wise
Tel: +353 1 400 7528
Email: cathy.riordan(at)prwise(dot)ie
Louise Durning
Marketing Manager, AIB Merchant Services
Tel: + 353 1 2182149
Email: louise.durning(at)aibms(dot)com