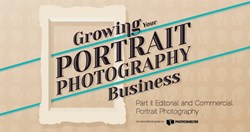 Seasoned photographers share tips to prepare for a shoot, get smart about negotiating, and build lasting client relationships.
New York, NY (PRWEB) September 25, 2013
PhotoShelter (http://www.photoshelter.com), the worldwide leader in photography portfolio websites, sales and marketing tools for photographers, today published a new free educational guide, Growing Your Portrait Photography Business, Part II: Editorial and Commercial Portrait Photography. In this guide, business-savvy portrait photographers offer tips to target an audience, get serious about marketing, and build lasting client relationships.
Growing Your Portrait Photography Business, Part II can be downloaded directly here: http://bit.ly/PortraitGuide2.
In this guide, photographers will discover how to:

Prepare for a shoot, including the top questions to ask before you arrive.
Build connections with clients with great customer service.
Impress photo editors with an exceptional online portfolio.
Get smart about pricing and negotiating contracts and licenses.
Also hear from seasoned editorial and commercial photographers including Brian Smith, Jim Jordan and Jason Myers who share tips on shooting killer portrait photography, plus the secrets to great portrait lighting.
Those who download the guide by October 2, 2013 and will also be entered to win a Pricing and Negotiating Review package from the pricing experts at Wonderful Machine. The package includes a review of your current pricing approach, along with in-depth analysis of up to five of your recent estimates.
This guide is the second part in a two-part guide on building a portrait photography business. Growing Your Portrait Photography Business, Part I: Families, Kids & Senior Portrait Photography was released in August 2013 and includes tips from top photographers to attract a local market, price portrait packages, and build a portrait photography business from the ground up.
Growing Your Portrait Photography Business, Part II is the latest in PhotoShelter's ongoing series of free business guides for photographers and marketing professionals. PhotoShelter's library includes 30+ educational guides including topics such as creating a successful photography portfolio, email marketing, and starting a photography business. All can be downloaded here: http://bit.ly/psresearch.
About PhotoShelter
PhotoShelter offers the most professional, reliable and innovative online tools to build and grow a successful photography business. Its latest release, Beam, offers a suite of portfolio website templates built with the latest technology to showcase images at their best. Over 80,000 photographers use PhotoShelter's websites, social and SEO tools to attract new clients; online image archives to stay organized; and image delivery and e-commerce tools to sell their work. To grow your business, manage it more efficiently, or find new ways to market yourself and delight your clients, try PhotoShelter free for 14 days when you visit http://www.photoshelter.com.