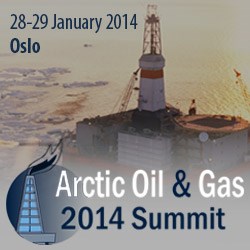 It's an IRN Summit!
Oslo, Norway (PRWEB UK) 26 September 2013
It is estimated that around one third of the world's oil and gas reserves are lying underneath the Arctic Circle, and with technology rapidly advancing it seems likely that over the coming period there will be a sharp increase in exploration of the Arctic. Russia and Norway are presently exploring the Barents Sea, and licenses soon to be awarded are already attracting great interest in light of recent oil discoveries. Nations previously inactive in the region, including China and India, are becoming more involved as new transportation routes are opening up to them. Furthermore the Arctic Council recently welcomed six new nations as observer states in their proceedings.
IRN, the global summits organiser, is pleased to announce the launch of its inaugural Arctic Oil & Gas 2014 Summit, which will take place on 28th-29th January in Oslo, Norway.
The summit will create a platform that enables open and frank discussions amongst the key players in the Arctic Circle, including but not limited to Russia, Alaska, Canada, Greenland, Norway, Sweden, Finland and Iceland. It will bring together senior level representatives from the international oil companies already involved in the region with those that are looking to invest in future developments.
Each of the countries in the Arctic Circle offers a unique investment opportunity, some with advantages such as vast natural reserves or reliable governments or disadvantages such as uncertain environments or extreme weather conditions. This Summit aims to illustrate the many ways your organisation can get involved in this promising region by providing all the necessary information via the expert faculty. The Summit will also give delegates the chance to network and form key business relationships with the senior level delegation.
More information on the full agenda of the Arctic Oil & Gas 2014 Summit can be found online at http://www.oilgasarctic.com. For regular updates, follow IRN Oil and Gas on Twitter, @IRN_OilandGas and join the LinkedIn Group 'The Oil & Gas Network'.